Story of Frank Del Rio
Out of Cuba, With a Suitcase
By FRANK DEL RIO
Published: June 11, 2011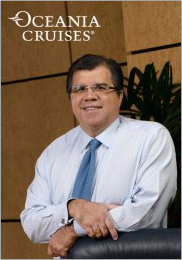 My family emigrated from Cuba when I was almost 7, after the failed Bay of Pigs mission. We had a nice life in Cuba. My father worked for the Coca-Cola Company, and we'd spend weekends at our beach house. But my parents didn't support Fidel Castro and wanted safe passage out of the country at that point.
We escaped to Jamaica on Aug. 22, 1961, then flew to Miami and were processed at the Freedom Tower. After that, we moved to New Britain, Conn., and stayed with my uncle. Each of us had taken just one suitcase from Cuba because my parents thought Castro couldn't possibly stay in power long. But we stayed in Connecticut for nine years.
We left for Miami just before I started 10th grade, and I knew no one. The first day, I walked into Algebra II and saw two empty seats, one next to a girl and the other next to a guy. I sat next to the girl, and by Thursday of that week, I knew that she had also emigrated from Cuba, and she did her homework every night, and let me copy it every morning. Her name was Marcia, and I married her after our freshman year in college. We're still married and have two children.
I attended the University of Florida for a degree in accounting. My father was an accountant, and I thought that having that background would give me a leg up in business. I was a competitive runner, but I knew that I wouldn't be able to run well and be happily married and still get straight A's. Something had to give, so I gave up running.
In 1977, I started working at what was then Peat, Marwick, Mitchell & Company and stayed for three years. Then I worked for Certified Vacations, which operated Delta Dream Vacations. I was executive vice president for sales and marketing when I left in 1993. I learned how to run a business there.
Next, I joined Renaissance Cruises as senior vice president and chief financial officer, then became co-C.E.O. Renaissance was a luxury line that went bankrupt when the travel business plummeted after 9/11. The company and I had parted ways, however, before the attacks.
In 2002, I founded Oceania Cruises with a group of investors. We bought three ships that had belonged to Renaissance, and in 2007 sold a majority stake to a private equity firm. In 2008, we acquired Regent Seven Seas Cruises. The brands compete against each other, but we've achieved synergies and each company has learned from the other. Both are now under Prestige, the parent company.
I recall sitting around the table when we were starting Oceania, trying to come up with something different to offer. We had only $14 million in capital, a drop in the bucket for a cruise line. We had to find a business plan that improved our odds. Itineraries are similar for many cruise lines, so we focused on cuisine and teamed up with the chef Jacques Pépin.
I learned two lessons from the Renaissance bankruptcy. One is not to discount the importance of travel agents. Every business organization that has tried to marginalize them has paid a price. Many people thought that the Internet would eliminate all brick-and-mortar businesses, and travel agents were a symbol for them at that time. But travel agencies have evolved, and cruises are a complex product. Our travel-agent accounts are our lifeline.
The second lesson is, innovate or evaporate. But it's just as bad to innovate too much as it is to do too little. As with anything, you need balance.
I've also learned that there's no substitute for honesty. If you're honest during good times and bad, people may disagree with you, but they'll always trust you. I'd rather have someone's trust than just about anything else.
As told to Patricia R. Olsen.
A version of this article appeared in print on June 12, 2011, on page BU8 of the New York edition with the headline: Out of Cuba, With a Suitcase.
Click here to view the original New York Times article.