Waterways of the Tsars
St. Petersburg ↔ Moscow
May 2022
PRESIDENT'S CRUISE
Waterways of the Tsars
St. Petersburg ↔ Moscow
May 2022 on board on board Viking Longships New Ship
PRESIDENT'S CRUISE
Deluxe
starting from:
PER PERSON
FREE Air*, Taxes & Fees Included
Up to
FREE Air* & FREE Transfers
Plus Reduced Air starting from

$

Free Air* & FREE Transfers
Plus
FREE Pre-paid Gratuities
(value up to $)
FREE Silver Spirits Beverage Package (more details)


(Select March - June Voyages)

FREE Wine, Beer & Soft drinks
(w/ onboard lunch & dinner)
FREE

Specialty Coffees, Teas & Bottled Water

FREE Guided Tours
FREE WiFi
FREE Shipboard Credit


(up to $300CAD**/stateroom)

FREE Enrichment Lectures
ALL Taxes & Fees
PLUS Travel Insurance‡
Trip Cancellation & Trip Interruption


NO AGE LIMIT

|

NO MEDICAL QUESTIONNAIRE

|

PRE-EXISTING CONDITION WAIVED


See: Summary of Coverage / Insurance Policy/ Resolution Policy

Cruise Connections Exclusive Price (
CAD
)
FREE Air*, Taxes & Fees Included
*Viking FREE Air offer applies to select Canadian gateways and select voyages. Air offer and pricing may vary across gateways, saildates and itineraries. Airport transfers included with Viking purchased Air (to and from cruise terminal) on cruise dates. If air is not purchased from Viking, transfers may be purchased separately. Reverse itineraries available for multiple dates. Call for details.
Upgrade

to Concierge or Penthouse Suite with

30% more space

.
VIEW DETAILS
USD Prices Also Available
St. Petersburg ↔ Moscow
Moscow to St. Petersburg
| | | |
| --- | --- | --- |
| | Moscow, Russia | The crenellated red brick walls of Moscow's Kremlin surround many towers, cathedrals and palaces. |
| | Moscow, Russia | The immense scale of Moscow, a major cultural and economic metropolis as well as Russia's pulsing political center, is breathtaking. |
| | Moscow, Russia | Majestic Moscow, one of the world's greenest cities, decorates even its subway stations lavishly with art and magnificent chandeliers. |
| | Moscow, Russia | A metropolis of grand boulevards, regal monuments and onion-domed cathedrals, by night Moscow masterfully illuminates its landmarks. |
| | Uglich, Russia | Founded in 1148 along the Volga River, Uglich is a magnificent city to behold from the river. |
| | Yaroslavl, Russia | Stretching 18 miles along both banks of the Volga amidst a region of forests, Yaroslavl was founded in 1010 by Prince Yaroslav the Wise of Kiev. |
| | Kuzino, Russia | Kuzino's renowned Kirillo-Belozersky Monastery was founded by Saint Cyril in 1397. |
| | Kizhi, Russia | Situated at the north end of Lake Onega, Kizhi Island is home to the famed Open Air Museum of Architecture. |
| | Mandrogy, Russia | Reconstructed as an open air museum, Mandrogy keeps the traditions of Russian villages alive. |
| | St. Petersburg, Russia | Russia's second largest city, St. Petersburg has been called "Venice of the North" for its many islands, canals and bridges. |
| | St. Petersburg, Russia | Inspired by Europe's cultural capitals, St. Petersburg is Russia's most Western city. |
| | St. Petersburg, Russia | St. Petersburg is graced by grand boulevards, a lacework of canals, baroque buildings, resplendent palaces and dazzling onion-domed churches. |
| | St. Petersburg, Russia | Priceless art and world-class ballet elevate St. Petersburg more than its founder, Peter the Great, could have dreamed. |
| | | |
| --- | --- | --- |
| | St. Petersburg, Russia | Russia's second largest city, St. Petersburg has been called "Venice of the North" for its many islands, canals and bridges. |
| | St. Petersburg, Russia | Inspired by Europe's cultural capitals, St. Petersburg is Russia's most Western city. |
| | St. Petersburg, Russia | St. Petersburg is graced by grand boulevards, a lacework of canals, baroque buildings, resplendent palaces and dazzling onion-domed churches. |
| | St. Petersburg, Russia | Priceless art and world-class ballet elevate St. Petersburg more than its founder, Peter the Great, could have dreamed. |
| | Mandrogy, Russia | Reconstructed as an open air museum, Mandrogy keeps the traditions of Russian villages alive. |
| | Kizhi, Russia | Situated at the north end of Lake Onega, Kizhi Island is home to the famed Open Air Museum of Architecture. |
| | Kuzino, Russia | Kuzino's renowned Kirillo-Belozersky Monastery was founded by Saint Cyril in 1397. |
| | Yaroslavl, Russia | Stretching 18 miles along both banks of the Volga amidst a region of forests, Yaroslavl was founded in 1010 by Prince Yaroslav the Wise of Kiev. |
| | Uglich, Russia | Founded in 1148 along the Volga River, Uglich is a magnificent city to behold from the river. |
| | Moscow, Russia | The crenellated red brick walls of Moscow's Kremlin surround many towers, cathedrals and palaces. |
| | Moscow, Russia | The immense scale of Moscow, a major cultural and economic metropolis as well as Russia's pulsing political center, is breathtaking. |
| | Moscow, Russia | Majestic Moscow, one of the world's greenest cities, decorates even its subway stations lavishly with art and magnificent chandeliers. |
| | Moscow, Russia | A metropolis of grand boulevards, regal monuments and onion-domed cathedrals, by night Moscow masterfully illuminates its landmarks. |
| | | |
| --- | --- | --- |
| | St. Petersburg, Russia | Russia's second largest city, St. Petersburg has been called "Venice of the North" for its many islands, canals and bridges. |
| | St. Petersburg, Russia | Inspired by Europe's cultural capitals, St. Petersburg is Russia's most Western city. |
| | St. Petersburg, Russia | St. Petersburg is graced by grand boulevards, a lacework of canals, baroque buildings, resplendent palaces and dazzling onion-domed churches. |
| | St. Petersburg, Russia | Priceless art and world-class ballet elevate St. Petersburg more than its founder, Peter the Great, could have dreamed. |
| | Mandrogy, Russia | Reconstructed as an open air museum, Mandrogy keeps the traditions of Russian villages alive. |
| | Kizhi, Russia | Situated at the north end of Lake Onega, Kizhi Island is home to the famed Open Air Museum of Architecture. |
| | Kuzino, Russia | Kuzino's renowned Kirillo-Belozersky Monastery was founded by Saint Cyril in 1397. |
| | Yaroslavl, Russia | Stretching 18 miles along both banks of the Volga amidst a region of forests, Yaroslavl was founded in 1010 by Prince Yaroslav the Wise of Kiev. |
| | Uglich, Russia | Founded in 1148 along the Volga River, Uglich is a magnificent city to behold from the river. |
| | Moscow, Russia | The crenellated red brick walls of Moscow's Kremlin surround many towers, cathedrals and palaces. |
| | Moscow, Russia | The immense scale of Moscow, a major cultural and economic metropolis as well as Russia's pulsing political center, is breathtaking. |
| | Moscow, Russia | Majestic Moscow, one of the world's greenest cities, decorates even its subway stations lavishly with art and magnificent chandeliers. |
| | Moscow, Russia | A metropolis of grand boulevards, regal monuments and onion-domed cathedrals, by night Moscow masterfully illuminates its landmarks. |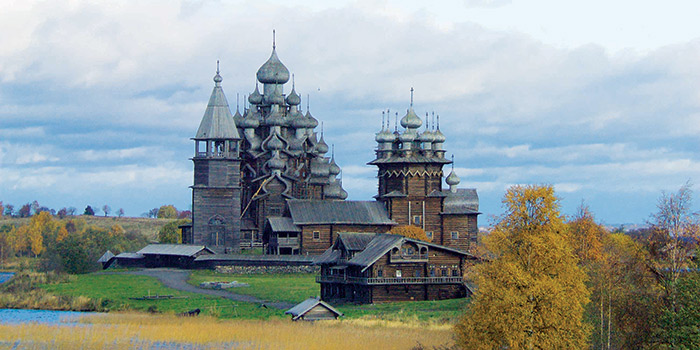 Limited Time Offer. New bookings only. All fares are in CAD, per person based on double occupancy. Government taxes and fees included. *Air Promo: Free or reduced airfares on select River Cruises. Viking Air offer applies to select Canadian gateways. Air offer and pricing may vary across gateways, sail dates, and itineraries. Airport transfers included with Viking purchased Air (to and from the cruise terminal) on cruise dates. If air is not purchased from Viking, transfers may be purchased separately. Reverse itineraries available for multiple dates. Call for details. Airfares are subject to change until full payment for air is received. Some airline-imposed personal charges, including but not limited to baggage, priority boarding, and special seating, may apply. Cruise fares reflect the lowest lead-in fare for the dates listed by category. All cruise fares include cruise taxes and fees. **Up to $600 CAD Shipboard Credit is per stateroom; amount varies by voyage and stateroom category, Call for details. Cruise Connections reserves the right to correct errors & omissions. All offers, rates & sailings subject to change & availability at the time of booking. Promotion is capacity controlled and may be pulled out at any time without prior notice. Certain restrictions apply. BPCPA #28364
Other cruises you might like
13
Days
Nights
✦ Moscow to St. Petersburg
Waterways of the Tsars
13
Days
Nights
✦ St. Petersburg ↔ Moscow
Up to
FREE Air* & FREE Transfers
Plus Reduced Air starting from

$

Free Air* & FREE Transfers
Plus
FREE Pre-paid Gratuities
(value up to $)
FREE Silver Spirits Beverage Package (more details)


(Select March - June Voyages)

FREE Wine, Beer & Soft drinks
(w/ onboard lunch & dinner)
FREE

Specialty Coffees, Teas & Bottled Water

FREE Guided Tours
FREE WiFi
FREE Shipboard Credit


(up to $300CAD**/stateroom)

FREE Enrichment Lectures
ALL Taxes & Fees
PLUS Travel Insurance‡
Trip Cancellation & Trip Interruption


NO AGE LIMIT

|

NO MEDICAL QUESTIONNAIRE

|

PRE-EXISTING CONDITION WAIVED


See: Summary of Coverage / Insurance Policy/ Resolution Policy

PRICES
Cruise Connections Exclusive Price ()
FREE Air*, Taxes & Fees Included
 

Stateroom

Sale Fare

(from / per person)

Savings

(up to / per couple)

Extra Shipboard Credit





$


$


+ $/Person Gratuities/Taxes & Fees

$

$ 


per stateroom



$


$


+ $/Person Gratuities/Taxes & Fees

$

$ 


per stateroom



$


$


+ $/Person Gratuities/Taxes & Fees

$

$ 


per stateroom



$


$


+ $/Person Gratuities/Taxes & Fees

$

$ 


per stateroom
*Viking FREE Air offer applies to select Canadian gateways and select voyages. Air offer and pricing may vary across gateways, saildates and itineraries. Airport transfers included with Viking purchased Air (to and from cruise terminal) on cruise dates. If air is not purchased from Viking, transfers may be purchased separately. Reverse itineraries available for multiple dates. Call for details.
PRICE-VALUE COMPARISON Request A Quote Request A Quote