Your time on board Seven Seas Splendor™ will be just as rewarding as your time spent ashore. Check out the deck plans to discover where to take enrichment classes, do some shopping, enjoy a cocktail and savor a fine meal.
750 GUESTS
542 CREW
375 SUITES
10 DECKS
224 M LENGTH
31 M WIDTH
55.498 TONNAGE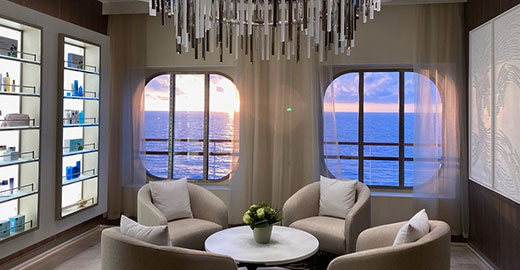 No matter how large you choose to live on Seven Seas Splendor™, the same exceptional standards of design and comfort apply to every suite. Layouts range from 307 to 4,443 square feet, and all include a furnished private balcony.
Perfection is in the details. Discover the intricate beauty and marvelous design of Seven Seas Splendor™ as Regent unveils some of the refinements and wonders that went into creating luxury perfected. From her grand social spaces to the private balconies adorning every suite, Seven Seas Splendor is a work of art from bow to stern.
Evenings on board are filled with music and fun. Enjoy a rousing cabaret show, test your luck at the Casino, step onto the stage for karaoke or simply find a quiet place on deck to revel in the symphony of stars.