A globe-circling journey is the pinnacle of sought-after travel experiences, and this 2024 Around the World cruise weaves together a desirable lineup of destinations into a brilliant kaleidoscope of world wonders, marvelous attractions and exceptional encounters that will leave you changed. Join us in 2024 on an epic cruise where the familiar swiftly unlocks doors to the unexpected, where the everyday is transformed into the unforgettable, and where even the most seasoned travelers are swept away in pure wonder of the world – and of humankind.
FREE FIRST CLASS
Roundtrip Airfare*
Bonus Value up to 63%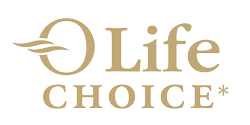 choose one:
FREE – 78 Shore Excursions
FREE – US$7,800 Shipboard
FREE – Beverage Package
(perks per stateroom)

EXCLUSIVE PRESTIGE PACKAGE*
FREE Pre-Paid Gratuities
(a value of up to US$8,200)

FREE Onboard Medical Care

FREE Internet

FREE Laundry Services
FREE Exclusive Shoreside Events

FREE Visa Package

FREE Luggage Delivery

FREE 1-Night Pre-Cruise Luxury Hotel Stay

FREE Roundtrip Transfers

CRUISE CONNECTIONS
Exclusive Advantage
Bonus Value up to $35,000 CAD (per stateroom)
FREE 2nd Internet Log-in (US$5,000 Value)
Up to US$5,000 Shipboard Credit/stateroom (see details below)
Free Pre-Cruise Dinner
Free Exclusive (3) Shore Excursions

Highlights of Bali

Highlights of Barcelona w/ Lunch & a visit to Sagrada Familia

Hot Air Balloon in Luxor
PLUS Travel Insurance‡
Trip Cancellation & Trip Interruption


NO AGE LIMIT

|

PRE-EXISTING CONDITION WAIVED

|

NO MEDICAL QUESTIONNAIRE


See: Insurance Coverage Summary / Resolution Policy
Travel Insurance is not available to residents of Quebec
Shipboard Credit/Stateroom
| | |
| --- | --- |
| Inside  | US$1,500 |
| Oceanview | US$2,500 |
| Balcony & Concierge | US$3,500 |
| Penthouse | US$4,000 |
| Vista & Owner Suites  | US$5,000 |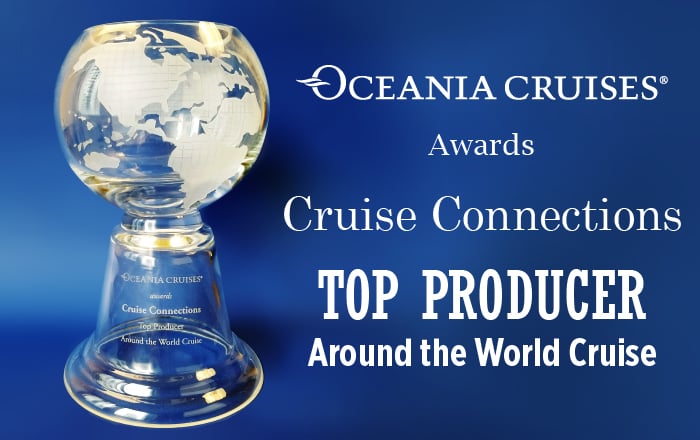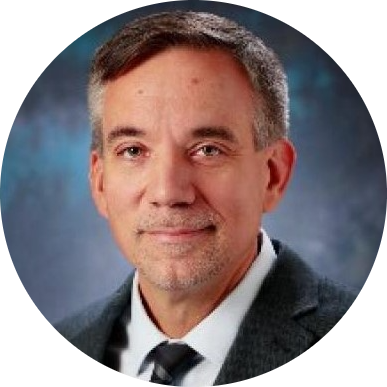 Howard Sherman
Oceania Cruises
President & CEO
Why not let 2024 be the year you explore the world on the grandest of scales? It is my pleasure to invite you to discover our newest 180-day global circumnavigation, which sails Earth's great seas and oceans to explore more than 90 ports of call on five continents. Due to its popularity, we have also crafted four specially curated, early-release Grand Voyages with exclusive amenities. Insignia sets sail on her Around the World voyage by crossing the Pacific Ocean to the Hawaiian Islands, French Polynesia and the Samoan Islands. She continues south, taking you to the stunning fjords of New Zealand and to the cultural and natural wonders of Australia and Asia. Fascinating experiences from jungle village encounters in Borneo to diverse metropolitan treasures of Shanghai and Japan. Embark on Exotic adventures along the shores of India, Arabian Peninsula, Mediterranean and Northern Europe. The full 180-day Around the World journey is made even more extraordinary with Free First-Class Roundtrip Airfare* and our Exclusive Prestige Package, which includes a collection of generous amenities such as Free Pre-Paid Gratuities, Free Laundry Services and Free Exclusive Shoreside Events.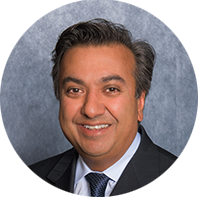 Sanjay Goel
Cruise Connections
President
We are honoured to be recognized as the singular Top Producer for Oceania Cruises "Around The World Cruise" starting with their first ever 180-Day World Cruise in 2015. Our team of dedicated and experienced cruise specialists offer unparalleled expert advice to help you plan your ultimate dream vacation.   
"We're very proud of our partnership. Cruise Connections is our largest Canadian Travel Partner and our top producer for our Around the World Cruise. Once again, we are pleased to partner with them on another masterpiece, a 180-Day World Cruise onboard Insignia.  This is a voyage like no other."  says Nikki Upshaw, Oceania's Senior VP of Sales.
Oceania Cruises' 2023 Around-The-World sold-out in record time, in less than 24 hours, so this World Cruise is bound to sell-out quickly. We've even sweetened the deal with our exclusive bonus savings of up to C$35,000*. So, don't miss out. Call us today at 1-866-765-WAVE (9283) to reserve your spot.
The Luxury of More Time
Overnight Cruise Ports
This world cruise itinerary features an alluring host of opportunities to enhance your travel experience, including 24 overnight stays in some of the most sought-after global destinations. You'll have plenty of time to tour and explore at your own pace, enjoy leisurely dinners ashore, visit iconic UNESCO World Heritage sites and explore in the ways that make your travels meaningful and memorable. Delight in the island culture of Bora Bora, set off on a majestic desert safari while in Dubai and experience the stark contrast of Iceland's dramatic glacial and volcanic landscapes. On this incredible world voyage, the luxury of experiencing the marvels and the flavors of the world more deeply with overnight cruise ports is yet another facet that will enrich your epic adventure.
Specially Curated
Exclusive Shoreside Events
Each year, our Exclusive Shoreside Events on our Around the World cruise are meticulously crafted and curated by our passionate Destination Specialists to bring the local culture to life through a series of celebratory and meaningful experiences. These private events are reserved only for the select cadre of world cruise guests choosing to join us for the complete world journey itinerary. Whether savoring a grand affair of dining, music and dance at the Royal Citadel in Hue or reveling in the mesmerizing footwork of the famed Riverdance troupe while in Dublin, you'll delight in these priceless opportunities to witness the enduring beauty and endeavors of humankind that make our world so wondrous.
Multi-Day Immersive
Mid-Cruise Overland Programs
From the jaw-droppingly beautiful Fiordland National Park in New Zealand to the majesty of the Himalayan kingdom of Nepal, the sheer breadth and depth of Mid-Cruise Overland Programs available on this Around the World itinerary further illustrate the sweeping nature of this global circumnavigation. Designed for the passionate traveler who seeks to embark on longer and more immersive explorations, these optional programs provide exclusive access to the world's most renowned cultural treasures and natural wonders, from the iconic Great Wall of China and astounding Angkor Wat to the legendary Taj Mahal.
Both designer-inspired and luxurious, the 684-guest Insignia offers entirely new suites, staterooms and bathrooms along with a sweepingly re-inspired atmosphere throughout the ship. The public spaces have been tastefully refreshed with a soft sea and sky palette of fabrics, designer furnishings and custom light fixtures that exquisitely showcase the inimitable style and comfort of Oceania Cruises. Insignia features four unique, open-seating restaurants, the Aquamar Spa + Vitality Center, eight lounges and bars, a casino and 342 lavish suites and luxurious staterooms, nearly 70% of which feature private verandas.