Casinos At Sea®
Casinos At Sea Rewards Program
Welcome to our Casinos At Sea rewards program. Elevate your game and your card status will follow with exclusive perks and privileges. Casinos At Sea reward points can be earned for many benefits, from free play, to complimentary drinks and exciting promotional offers. The more you play, the more you are rewarded.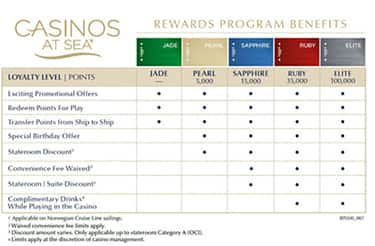 View Casino At Sea Program Details
Earn Casino Points
Getting started is easy. Stop by the casino cage and pick up your Oceania Cruises casino player card and start earning points today, by inserting your player card while playing your favorite slot machines and table games. The more you play, the more you earn!
Reel & Video Slots
 – For every $5 coin-in, receive 1 point.
Video Poker
 – For every $10 coin-in, receive 1 point.
Table Games
 – Points are based on average bet, session play or hands played and game type.
Redeem Casino Points
You've played. You've earned. Now you're ready to redeem. Downloading points for play is quick and easy. Redeem your casino points for play right at your machine by following the on-screen prompts or stop by the casino cage – the choice is yours.
Casino Cash & Credit
Front Money deposits are accepted for gaming in the form of cash, traveler's checks, cashier's checks and wire transfers delivered to us prior to embarkation. All cashier's checks require prior verification. For more information please give us a call at 877.625.2094.
Cashless Wagering
Charge gaming to your onboard account directly from your game of choice or at the casino cashier, using your stateroom key card. Convenience fees, daily limits and cruise limits apply. Euros may be exchanged at the casino cashier, exchange rates apply. All gaming is in US Dollars.
Credit
Casino Credit is available to all players with an existing reservation. The minimum application amount is $10,000.00 and a personal check is required onboard to activate the credit line. Applications are processed 1 month prior to sailing. The application process is easy and there is no fee to apply. To get started, click here for Oceania's credit application or for more information email [email protected] or call 877.625.2094.