A globe-circling journey is the pinnacle of sought-after travel experiences, and this 2024 Around the World cruise weaves together a desirable lineup of destinations into a brilliant kaleidoscope of world wonders, marvelous attractions and exceptional encounters that will leave you changed. Join us in 2024 on an epic cruise where the familiar swiftly unlocks doors to the unexpected, where the everyday is transformed into the unforgettable, and where even the most seasoned travelers are swept away in pure wonder of the world – and of humankind.
FREE FIRST CLASS
Roundtrip Airfare*
Bonus Value up to 63%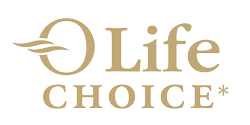 choose one:
FREE – 78 Shore Excursions
FREE – US$7,800 Shipboard
FREE – Beverage Package
(perks per stateroom)

EXCLUSIVE PRESTIGE PACKAGE*
FREE Pre-Paid Gratuities
(a value of up to US$8,200)

FREE Onboard Medical Care

FREE Internet

FREE Laundry Services
FREE Exclusive Shoreside Events

FREE Visa Package

FREE Luggage Delivery

FREE 1-Night Pre-Cruise Luxury Hotel Stay

FREE Roundtrip Transfers

CRUISE CONNECTIONS
Exclusive Advantage
Bonus Value up to $35,000 CAD (per stateroom)
FREE 2nd Internet Log-in (US$5,000 Value)
Up to US$5,000 Shipboard Credit/stateroom (see details below)
Free Pre-Cruise Dinner
Free Exclusive (3) Shore Excursions

Highlights of Bali

Highlights of Barcelona w/ Lunch & a visit to Sagrada Familia

Hot Air Balloon in Luxor
PLUS Travel Insurance‡
Trip Cancellation & Trip Interruption


NO AGE LIMIT

|

PRE-EXISTING CONDITION WAIVED

|

NO MEDICAL QUESTIONNAIRE


See: Insurance Coverage Summary / Resolution Policy
Travel Insurance is not available to residents of Quebec
Shipboard Credit/Stateroom
| | |
| --- | --- |
| Inside  | US$1,500 |
| Oceanview | US$2,500 |
| Balcony & Concierge | US$3,500 |
| Penthouse | US$4,000 |
| Vista & Owner Suites  | US$5,000 |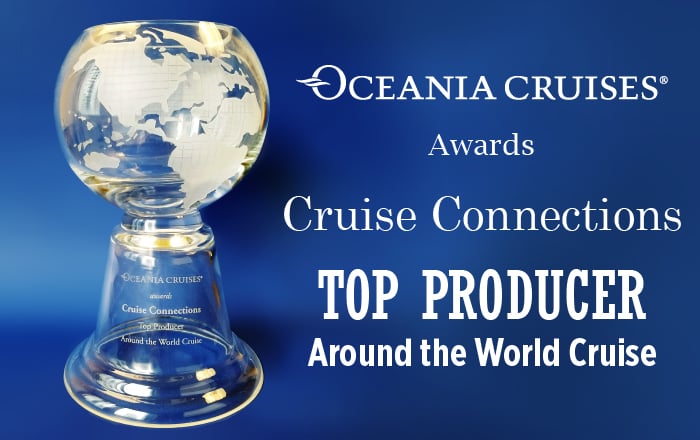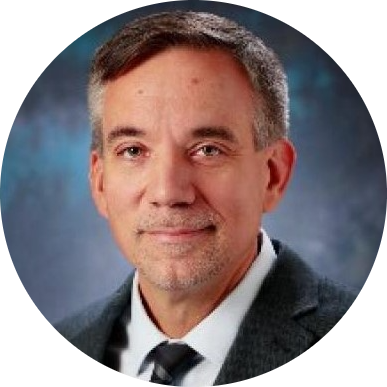 Howard Sherman
Oceania Cruises
President & CEO
Why not let 2024 be the year you explore the world on the grandest of scales? It is my pleasure to invite you to discover our newest 180-day global circumnavigation, which sails Earth's great seas and oceans to explore more than 90 ports of call on five continents. Due to its popularity, we have also crafted four specially curated, early-release Grand Voyages with exclusive amenities. Insignia sets sail on her Around the World voyage by crossing the Pacific Ocean to the Hawaiian Islands, French Polynesia and the Samoan Islands. She continues south, taking you to the stunning fjords of New Zealand and to the cultural and natural wonders of Australia and Asia. Fascinating experiences from jungle village encounters in Borneo to diverse metropolitan treasures of Shanghai and Japan. Embark on Exotic adventures along the shores of India, Arabian Peninsula, Mediterranean and Northern Europe. The full 180-day Around the World journey is made even more extraordinary with Free First-Class Roundtrip Airfare* and our Exclusive Prestige Package, which includes a collection of generous amenities such as Free Pre-Paid Gratuities, Free Laundry Services and Free Exclusive Shoreside Events.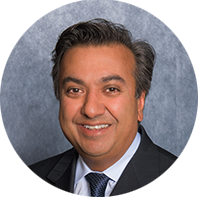 Sanjay Goel
Cruise Connections
President
We are honoured to be recognized as the singular Top Producer for Oceania Cruises "Around The World Cruise" starting with their first ever 180-Day World Cruise in 2015. Our team of dedicated and experienced cruise specialists offer unparalleled expert advice to help you plan your ultimate dream vacation.   
"We're very proud of our partnership. Cruise Connections is our largest Canadian Travel Partner and our top producer for our Around the World Cruise. Once again, we are pleased to partner with them on another masterpiece, a 180-Day World Cruise onboard Insignia.  This is a voyage like no other."  says Nikki Upshaw, Oceania's Senior VP of Sales.
Oceania Cruises' 2023 Around-The-World sold-out in record time, in less than 24 hours, so this World Cruise is bound to sell-out quickly. We've even sweetened the deal with our exclusive bonus savings of up to C$35,000*. So, don't miss out. Call us today at 1-866-765-WAVE (9283) to reserve your spot.
The Luxury of More Time
Overnight Cruise Ports
This world cruise itinerary features an alluring host of opportunities to enhance your travel experience, including 24 overnight stays in some of the most sought-after global destinations. You'll have plenty of time to tour and explore at your own pace, enjoy leisurely dinners ashore, visit iconic UNESCO World Heritage sites and explore in the ways that make your travels meaningful and memorable. Delight in the island culture of Bora Bora, set off on a majestic desert safari while in Dubai and experience the stark contrast of Iceland's dramatic glacial and volcanic landscapes. On this incredible world voyage, the luxury of experiencing the marvels and the flavors of the world more deeply with overnight cruise ports is yet another facet that will enrich your epic adventure.
Specially Curated
Exclusive Shoreside Events
Each year, our Exclusive Shoreside Events on our Around the World cruise are meticulously crafted and curated by our passionate Destination Specialists to bring the local culture to life through a series of celebratory and meaningful experiences. These private events are reserved only for the select cadre of world cruise guests choosing to join us for the complete world journey itinerary. Whether savoring a grand affair of dining, music and dance at the Royal Citadel in Hue or reveling in the mesmerizing footwork of the famed Riverdance troupe while in Dublin, you'll delight in these priceless opportunities to witness the enduring beauty and endeavors of humankind that make our world so wondrous.
Multi-Day Immersive
Mid-Cruise Overland Programs
From the jaw-droppingly beautiful Fiordland National Park in New Zealand to the majesty of the Himalayan kingdom of Nepal, the sheer breadth and depth of Mid-Cruise Overland Programs available on this Around the World itinerary further illustrate the sweeping nature of this global circumnavigation. Designed for the passionate traveler who seeks to embark on longer and more immersive explorations, these optional programs provide exclusive access to the world's most renowned cultural treasures and natural wonders, from the iconic Great Wall of China and astounding Angkor Wat to the legendary Taj Mahal.
Both designer-inspired and luxurious, the 684-guest Insignia offers entirely new suites, staterooms and bathrooms along with a sweepingly re-inspired atmosphere throughout the ship. The public spaces have been tastefully refreshed with a soft sea and sky palette of fabrics, designer furnishings and custom light fixtures that exquisitely showcase the inimitable style and comfort of Oceania Cruises. Insignia features four unique, open-seating restaurants, the Aquamar Spa + Vitality Center, eight lounges and bars, a casino and 342 lavish suites and luxurious staterooms, nearly 70% of which feature private verandas.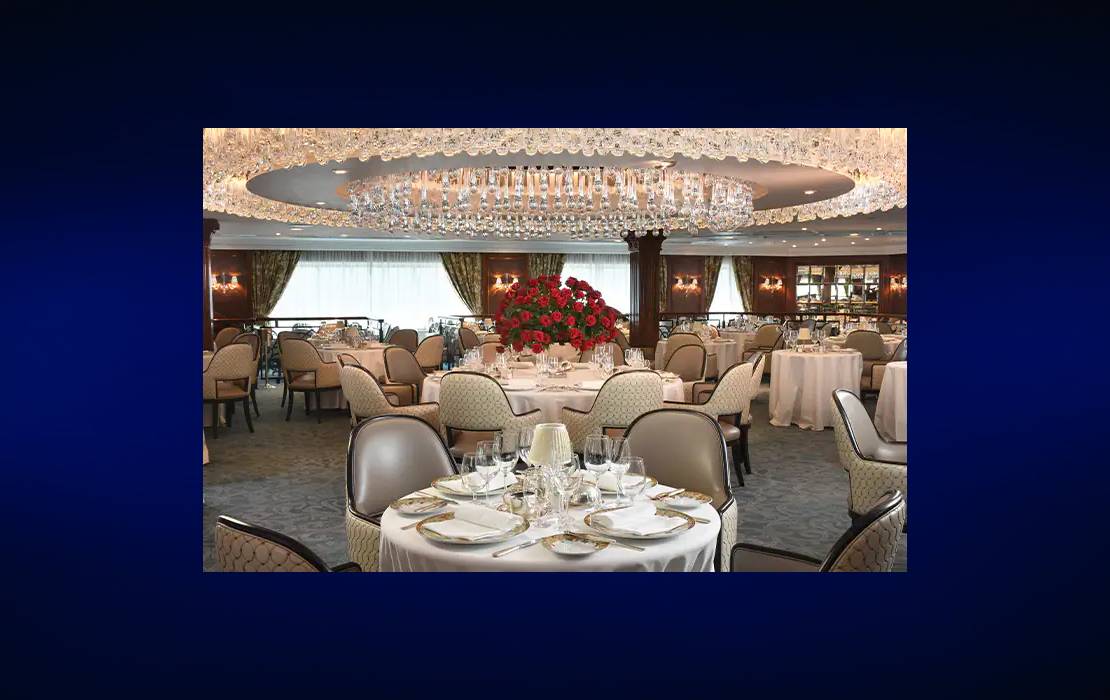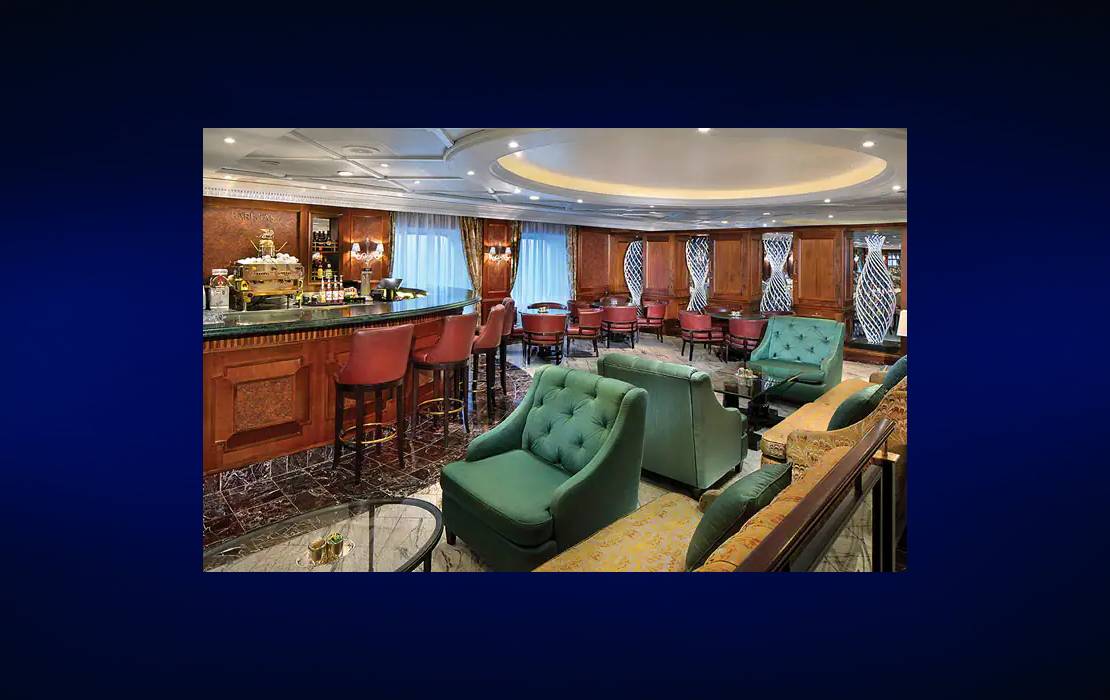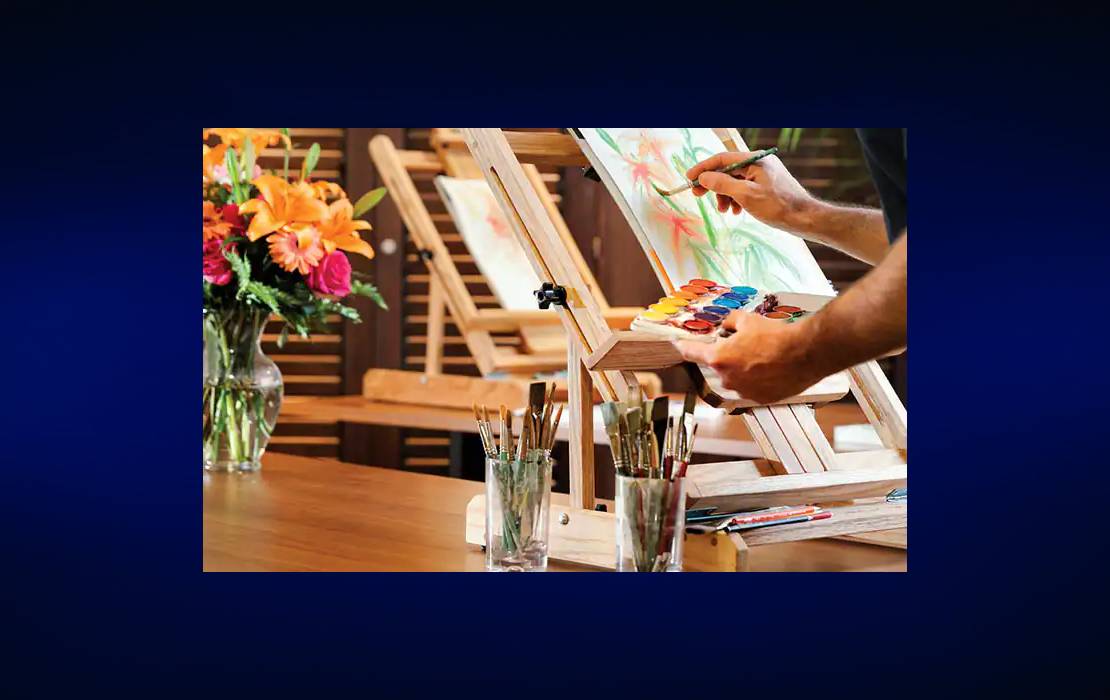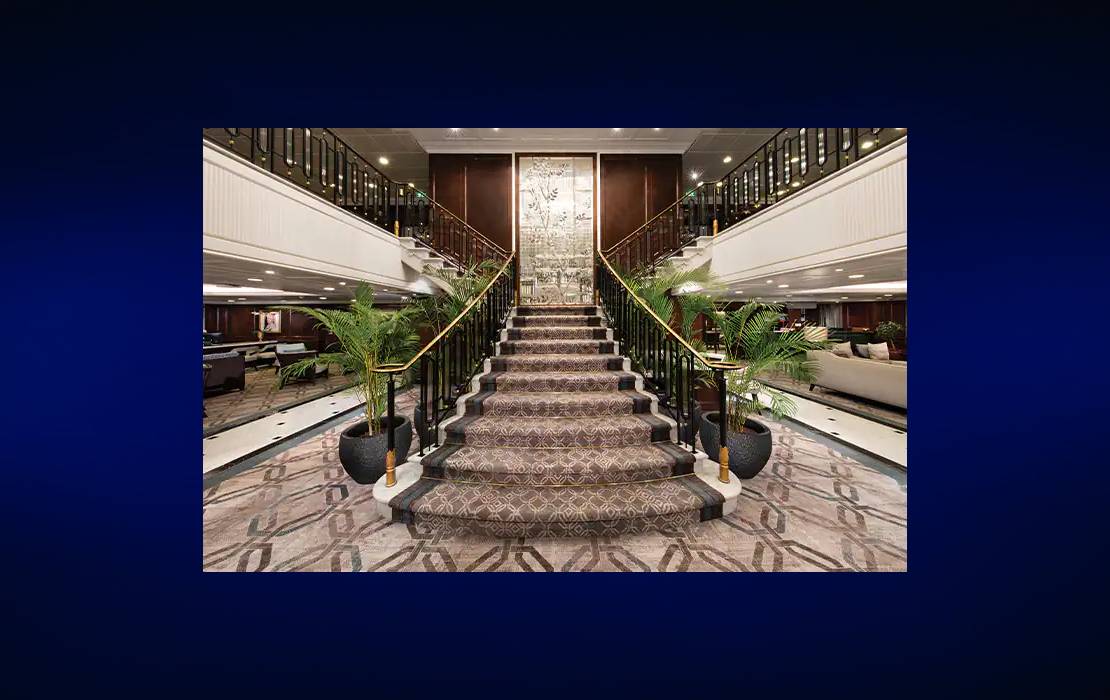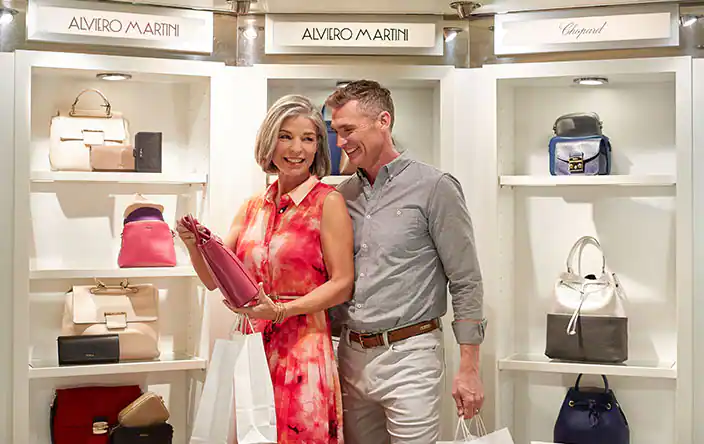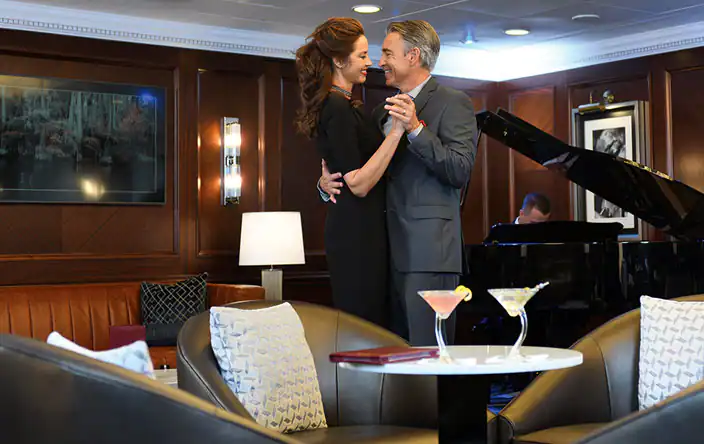 Explore the World Marvels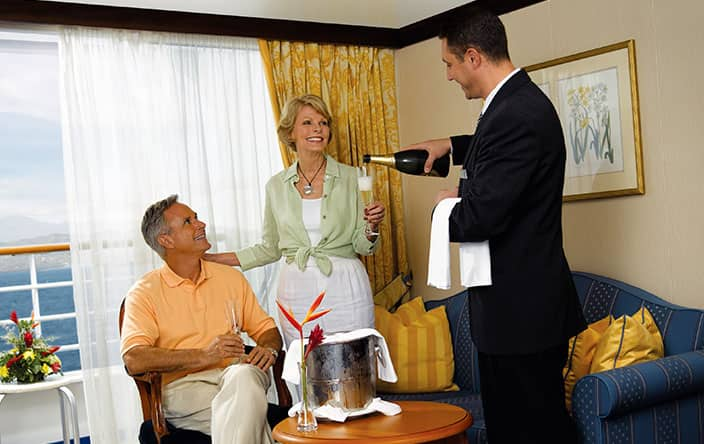 Comfort
Oceania's elegant mid-size ships feature large-ship amenities. With an extraordinarily high staff-to-guest ratio (1 to 1.6), guests can expect gracious, personalized service with your every request attended to. Suite and stateroom attendants are carefully selected from the world's finest 5-star hotels.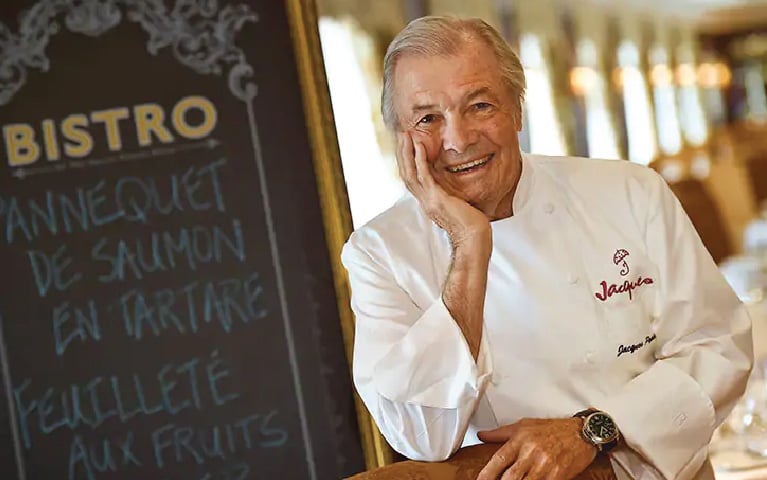 Finest Cuisine at Sea
Oceania scrutinizes a level of quality, whether it's their authentic Italian dishes, Polo Grill's steakhouse, bold Asian flavours or French gourmet delights. Guests can expect Five-star menus crafted under the watchful eye of world-renowned Master Chef Jacques Pépin, the line's Executive Culinary Director.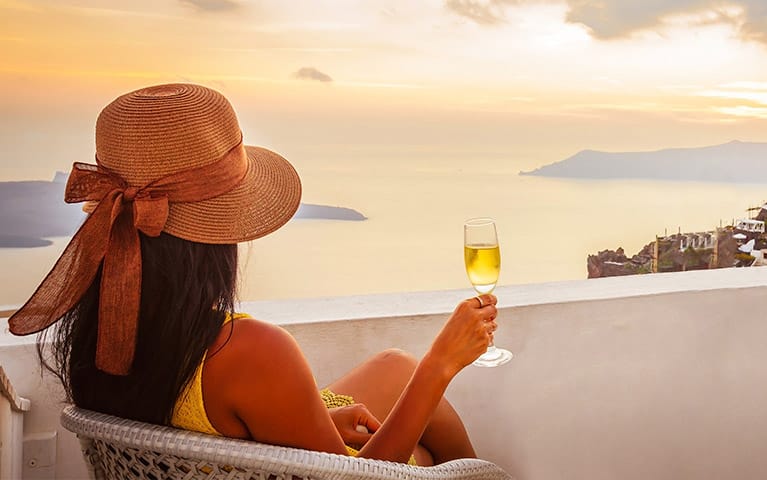 Destinations
Oceania Cruises bring you the vast treasures of the world in a way that no one else can. Authentic experiences that elevate your travels to a new level.  Travel to the most vibrant and renowned destinations with our small, luxurious ships, which call on smaller ports and remote harbors that larger vessels simply cannot.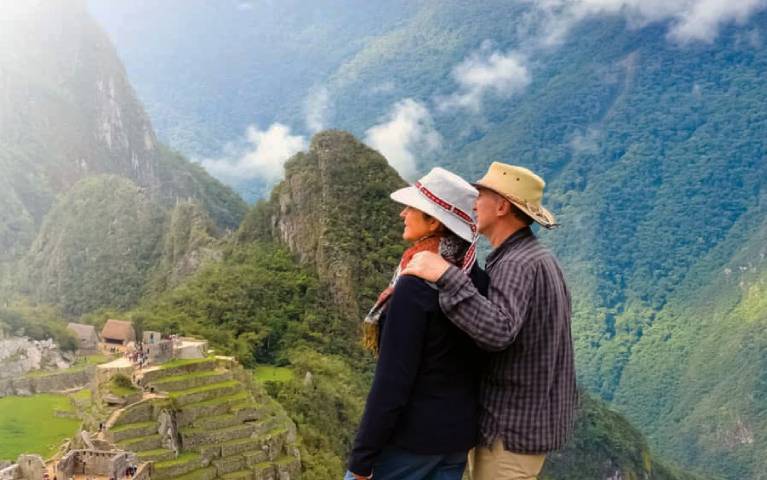 Lifestyle
Your World. Your Way.® Our unique itineraries are specifically designed to showcase the most fascinating destinations across the globe. Each Oceania ship can call on the world's most desirable ports, from historic cities to modern meccas to charming seaside villages nestled along sparkling coastlines.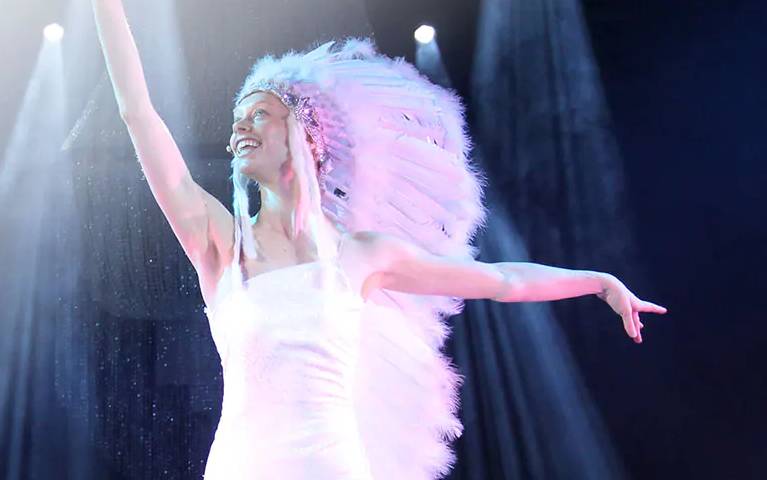 Entertainment
Evenings aboard Oceania Cruises can be anything you desire. Marvel at the continuously changing talented guest entertainers as you delight in high-energy production shows, talented vocalists, classical music and more.
Wellness At Sea
On a voyage with Oceania Cruises, you not only chart a new course to alluring ports of call but also discover new paths to wellness. Travel inspires the mind, uplifts the soul and invigorates the body, and the journey is as inspiring as the destination.
TERMS & CONDITIONS: Oceania 2024 Around-The-World Cruise
Limited Time Offer. All fares are per person in CAD or US dollars, valid for residents of United States and Canada, based on double occupancy (unless otherwise noted), for new bookings only and may be withdrawn at any time.
"Airfare" promotion includes ground transfers and applies to first class, roundtrip flights only from the following Oceania Cruises Primary Air Gateways: ATL, BOS, CLT, DCA, DEN, DFW, DTW, EWR, IAH, IAD, JFK, LAX, LGA, MCO, MDW, MIA, ORD, PHL, PHX, SAN, SAV, SEA, SFO, TPA, YOW, YUL, YVR, YYZ. Oceania Cruises reserves the right to assign gateways based on availability for JFK, LGA and MIA. Airfare is available from all other U.S. and Canada gateways at an additional charge. Gateways are subject to change. First class roundtrip airfare is for U.S. and Canada gateways only. Any advertised fares that include the "Airfare" promotion include all airline fees, surcharges and all government taxes.
Roundtrip transfers are included for all guests and for residents within 50 miles from the cruise port in Miami, San Francisco or New York. Restrictions may apply.
Airline-imposed personal charges such as baggage fees may apply. Additional terms and conditions may apply. Free luggage delivery is only available for guests from the U.S. and Canada and is restricted to two 50-pound bags per guest.
Free Internet amenity does not include streaming and includes one login per stateroom from Oceania except Owner's and Vista Suites, which receive two logins per suite. Cruise Connections will provide a complimentary 2nd login for Internet for 2024 Around the World Cruise. Visit OceaniaCruises.com/Internet for more details.
Free Medical Care restrictions apply. Medical Services included in the Exclusive Prestige Package: Any visits and admissions to the onboard Medical Center, any medical services typically provided by their onboard medical staff for which they normally charge a fee, any medical tests administered onboard (i.e. x-rays, ECG, labs, etc.) and any medications from their onboard pharmacy prescribed by the onboard doctor. Medical Services that are not included: Refills on any prescription drugs not prescribed by the onboard doctor, any and all costs associated with transferring a guest to land-based facility for treatment, emergency medical evacuations charges (i.e. medical escort, transport, etc.) and any other costs incurred off the ship or by an outside provider (i.e. consults with Cleveland Clinic, shoreside referral, etc.).
OLife Choice free shore excursions vary by voyage and exclude Oceania Select, Oceania Exclusive, Executive Collection, Food & Wine Trails, Wellness Discovery Tours by Aquamar, Go Local and Culinary Discovery Tours. If shore excursion amenity is selected, all excursions must be chosen at least 14 days prior to sailing. OLife Choice beverage package amenity is House Select. Guests in the same stateroom must choose the same OLife Choice amenity and amenity must be chosen by final payment.
Optional Mid-Cruise Overland Programs are available for an additional cost; dates/tours subject to change. All land tours are capacity controlled and subject to availability. Tours falling under the minimum number of required participants are subject to cancellation.
Complete Terms and Conditions may be found in the Guest Ticket Contract.
privacy-policy.
ITINERARY | All itineraries, including points of embarkation and debarkation, are at the discretion of Oceania Cruises and may be modified up to and during the voyage. Oceania Cruises reserves the right to amend, cancel or make substitutions for any travel component without prior notice to the guest, including hotels, ports of call or other modes of transportation if, in its opinion, the situation requires a change or cancellation of arrangements. Oceania Cruises does not assume responsibility or liability for any loss, inconvenience, or expense incurred by guests, as a result of any changes or cancellations.
Documentation and Visas: Passport and Visa requirements and regulations in regards to vaccination certificates and other health requirements vary by destination. Please review passport requirements on Oceania's ticket contract or on their website for requirement details.
Travel Insurance ‡ (Trip Cancellation & Trip Interruption) provided by Cruise Connections is group insurance administered by Travel Guard Group Canada, Inc. and underwritten by AIG Insurance Company of Canada. The Summary of Coverage contains reductions, limitations, exclusions, termination provisions and sanction wording. The cost of the insurance is included in the price of the cruise, and the price cannot be reduced for those who reside where coverage is not available or who are not medically able to travel. Emergency medical coverage is available at additional cost. Travel insurance included is not available to residents of Quebec.
DEPOSIT AND PAYMENTS | AROUND THE WORLD CRUISE The per person deposit required to secure your Around the World Cruise is 20% of the applicable cruise fare for all suites and staterooms and must be received within seven days of booking. Final balance due must be received no later than 181 days prior to cruise departure, together with passport details and any special onboard service requests; otherwise, booking may be subject to immediate cancellation and any applicable penalties.
CANCELLATION AND REFUNDS | AROUND THE WORLD CRUISE DAYS PRIOR TO CRUISE SAIL DATE CANCELLATION FEES
Deposit – 181 Days Prior US$500 per person cancellation fee, except Owners and Vista Suites: 10% Cancellation Fee of Total Fare
151-180 Days Prior…………….25% of Total Fare
121-150 Days Prior ……………50% of Total Fare
91-120 Days Prior ……………..75% of Total Fare
0-90 Days Prior ………………..100% of Total Fare
Cruise line reserves the right to charge a fuel supplement without prior notice, including on fully paid bookings. Cruise Connections and Oceania Cruises reserve the right to correct errors or omissions and to change any and all fares, fees and surcharges at any time. BPCPA #28364.