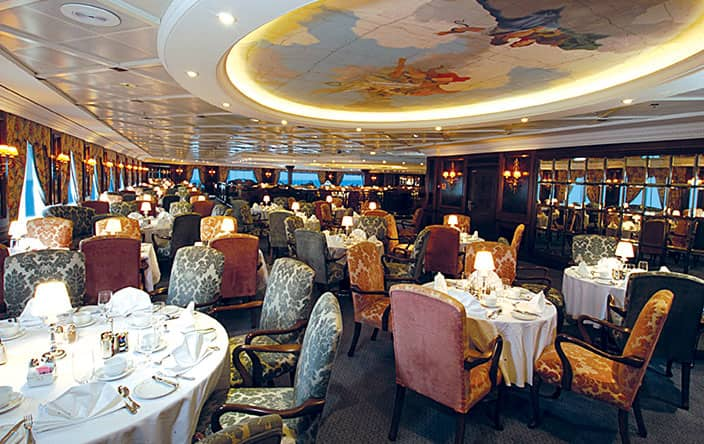 The Grand Dining Room
The Grand Dining Room is a study in stateliness, a tribute to the spirit of Europe's marquee 5-star hotel restaurants that inspired its dignified yet convivial ambiance. Handsomely decorated in rich woods, designer tapestry fabrics and oversized armchairs, the expansive dining area exudes classic splendor. Tables are beautifully set with bone china, sparkling Riedel crystal, gleaming silver, and fine cotton linens. Remarkably, as sumptuous as The Grand Dining Room's decor is, guests always feel completely at ease within its grandeur. Much of that is a direct reflection of the formally attired and classically trained wait staff, graciously serving course after course of European-inspired cuisine or delectable alternatives such as light and healthy Aquamar Vitality Cuisine and plant-based options. And on board Regatta, Insignia, Nautica and Sirena signature specials from Jacques and Red Ginger are featured nightly in The Grand Dining Room. As variety is essential, menus change daily with a brilliant choice of at least ten appetizers, soups and salads and twelve entrées at dinner.
The Bistro
Inspired by the family recipes of our Executive Culinary Director, Jacques Pépin, The Bistro invites you to enjoy quintessential French dishes as well as lunchtime favorites and regional specialties during lunch in The Grand Dining Room. The menu features some of Jacques' favorite bistro-style dishes like the crisp salade niçoise and a warm croque-monsieur as well as a rich range of global flavors with Taste of the World selections from Mexico, Scandinavia, Italy, Thailand, Morocco and beyond. Daily specials offer even more choices and opportunities to savor a new and different dish or a time-honored classic you crave. Bon appétit!
Sample Grand Dining Room Dinner Menu
Sample Grand Dining Room Lunch Menu – The Bistro
Sample Grand Dining Room Breakfast Menu
Sample Grand Dining Room Dessert Menu
Sample Grand Dining Room Wine List
Open for breakfast, lunch and dinner. No reservations required.
---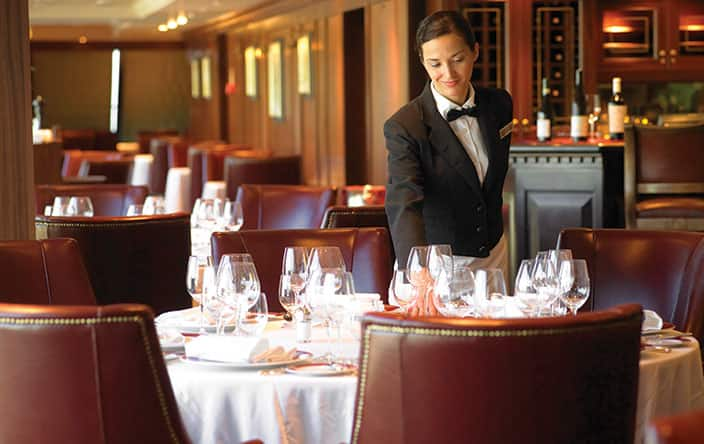 Polo Grill
Polo Grill embodies all the elements of a classic steakhouse, expressing them with timeless reverence. Mindful of tradition, the decor features crisp, white linen tablecloths, dark wood furnishings and supple, high-back, burgundy leather chairs. Each course stands as the very definition of time-honored favorites, most notably the beef dishes, all of which are USDA Prime and dry-aged for 28 days to enhance tenderness and flavor. Succulent seafood dishes such as Grilled Swordfish and Whole Maine Lobster Gratinée are also classics in their own right. The Classic Caesar Salad, too, is prepared according to tradition, tableside and with gusto.
Sample Polo Grill Dinner Menu
Sample Polo Grill Dessert Menu
Sample Polo Grill Wine List
Sample Polo Grill Scotch & Whiskey List
Open for dinner only. Reservations required.
---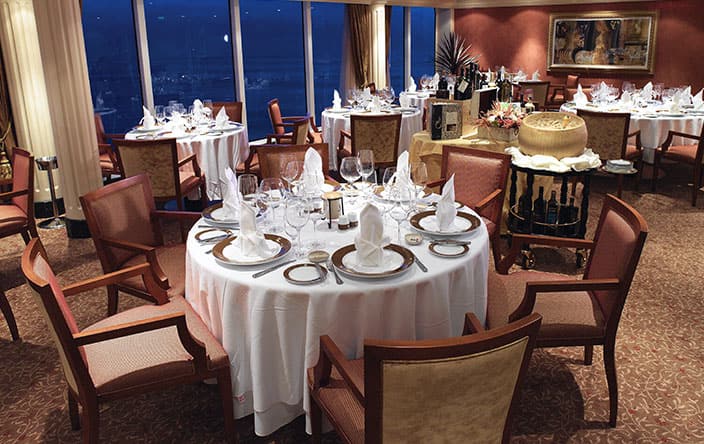 Toscana
In Italian, Toscana means Tuscan, and just as Tuscan cuisine evolved from rich family traditions, many of our recipes originated with the mothers and grandmothers of our own Italian culinary staff. Presented on elegant, custom-designed Versace china, masterfully prepared dishes exemplify the essence of Tuscany and celebrate Italy's culinary passion. Perhaps the evening begins with an appetizer of Octopus Carpaccio with Champagne Vinaigrette or the Artichoke and Parmesan Cheese Timbale with Black Truffle Sauce. Classic dishes from other regions of Northern Italy are featured as well, such as the Minestrone alla Genovese, Lasagne al Forno alla Bolognese and Osso Buco alla Milanese.
Sample Toscana Dinner Menu
Sample Toscana Dessert Menu
Sample Toscana Olive Oil Menu
Sample Toscana Wine List
Open for dinner only. Reservations required.
---
Terrace Café
Informal and carefree, the Terrace Café is wonderfully inviting any time of day–feel free to dine inside or alfresco at one of the shaded teak tables on the terrace. First thing in the morning, enjoy sumptuous breakfast selections. Come lunch, the expansive menu of international-inspired dishes changes entirely, beautifully complemented by flavorful roasted and rotisserie meats and the magic of the pizzeria's oven. Feel free to dine inside or alfresco at one of the shaded teak tables on the terrace. Evenings, the impeccably clad wait staff shines, and the cuisine takes on a more sophisticated flair. Lobster tails and lamb chops are prepared to order, and freshly made hand-cut sushi and sashimi await your selection. Tomorrow, an entirely different series of menus awaits the opportunity to delight you.
Sample Terrace Café Lunch Buffet Menu
Sample Terrace Café Dinner Menu
Sample Terrace Café Wine List
Open for breakfast, lunch and dinner. No reservations required.
---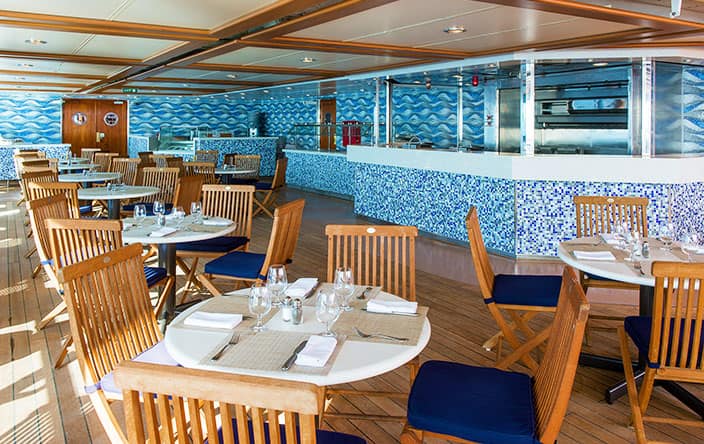 Waves Grill
Sometimes, the ultimate luxury is casual dining on all-American favorites, a laid-back style Waves Grill epitomizes. Located in a spacious, shaded area steps from the swimming pool, Waves Grill offers an extensive and mouthwatering luncheon menu. During lunch, the chefs grill gourmet burgers, tangy barbecue and succulent seafood to order in the open galley, accompanying them with side dishes like garden-fresh salads and crispy, hand-cut truffle fries dusted with grated aged parmesan.
Sample Waves Menu
Sample Waves Bar Menu
Open for lunch and afternoon dining only. No reservations required. 
---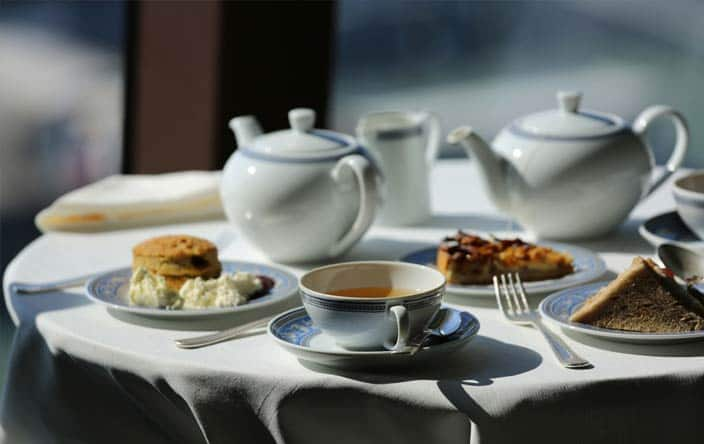 Afternoon Tea
Teatime is a celebratory daily event that irresistibly draws guests to Horizons at four o'clock sharp. As a classical string quartet plays softly in the background, our staff glides through the room presenting bountiful fourtiered pastry carts filled with freshly made finger sandwiches, colorful petits fours, richly textured scones with clotted cream and wonderfully sinful desserts. Of course, a selection of herbal teas is the centerpiece of this splendid afternoon pastime.
Daily at 4pm. No reservations required.
---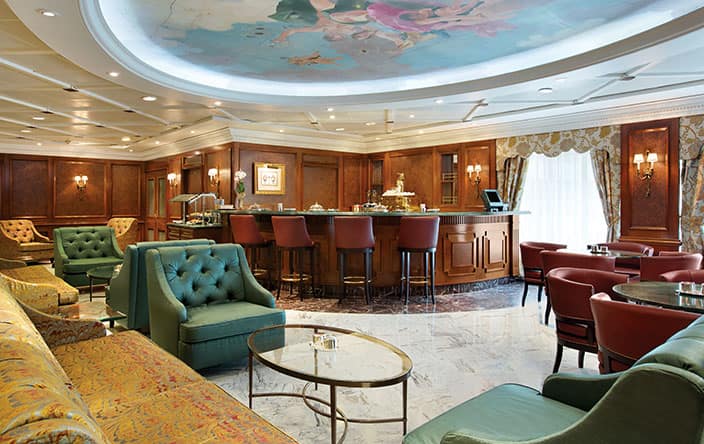 Baristas
Specialty CoffeeThis delightful coffee bar is a favorite stop for java lovers. Enjoy complimentary illy® espressos, cappuccinos and lattes prepared by our master baristas, as well as the delicious pastries, finger sandwiches and homemade biscotti that draw so many to Baristas throughout the day. Whether your favorite coffee creation is a macchiato or a cool and refreshing illy crema, the chic and bold ambiance of Baristas is perfect for relaxing in quietude or socializing with newfound friends.
Open daily until early evening. No reservations required.
---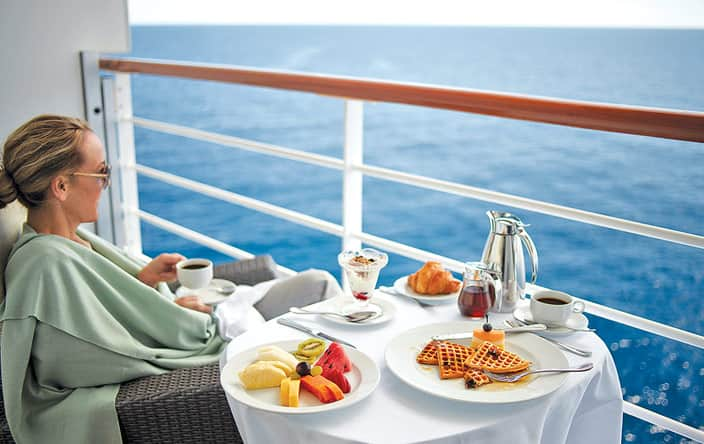 Room Service
After a day of enriching shore excursions ashore or various activities onboard, you may dine in the privacy of your suite or stateroom. An extensive Room Service menu is available around the clock. Enjoy breakfast, lunch or dinner on your private veranda, as you take in spectacular seascapes.
Complimentary room service is available 24 hours a day.