Viking Shores & Fjords
Amsterdam ↔ Bergen
Apr - May 2022
PRESIDENT'S CRUISE
Viking Shores & Fjords
Amsterdam ↔ Bergen
Apr - May 2022 on board on board Viking Longships New Ship
PRESIDENT'S CRUISE
Deluxe Veranda
starting from:
PER PERSON
Reduced Int'l Air from $799, Taxes & Fees Included
Up to 7 FREE Category Upgrade (Best Available Stateroom)
Reduced Int'l Air starting from $799*
FREE Transfers
FREE Upgrade (Deluxe Veranda Stateroom)
FREE Pre-paid Gratuities
(value up to $)
FREE Wine, Beer & Soft drinks
(w/ onboard lunch & dinner)
FREE

Specialty Coffees, Teas & Bottled Water

FREE

Specialty Dining

FREE Guided Tours
FREE WiFi
FREE Shipboard Credit


(up to $300 CAD**/stateroom)

FREE Enrichment Lectures
ALL Taxes & Fees
PLUS Travel Insurance‡
Trip Cancellation & Trip Interruption


NO AGE LIMIT

|

NO MEDICAL QUESTIONNAIRE

|

PRE-EXISTING CONDITION WAIVED


See: Summary of Coverage / Insurance Policy/ Resolution Policy

Cruise Connections Exclusive Price (
CAD
)
Reduced Int'l Air from $799, Taxes & Fees Included
Deluxe Veranda
from/person
*Promo includes Viking Air from select gateways: Calgary, Edmonton, Ottawa, Toronto, Vancouver, Winnipeg. Many additional gateways available, air fares may vary. Airport transfers included with Viking purchased Air (to and from cruise terminal) on cruise dates. If air is not purchased from Viking, transfers may be purchased separately. Call for details.
Upgrade

to Concierge or Penthouse Suite with

30% more space

.
VIEW DETAILS
USD Prices Also Available
Amsterdam ↔ Bergen
Amsterdam to Bergen
Amsterdam, The Netherlands
Capital of The Netherlands, Amsterdam is renowned for its museums, colorful gardens, abundance of bicycles and endless lattice of canals.
Sail the North Sea
The North Sea has been central to Europe's history, from Viking voyages to oil drilling.
Skagen, Denmark
The northernmost point of Denmark's mainland, Jutland, Skagen is a charming old fishing village.
Oslo, Norway
Oslo brims with scenic beauty, Viking history and artistic heritage.
Kristiansand, Norway
Kristiansand is a vibrant city with an inviting Old Town and a historic fortress.
Stavanger, Norway
Stavanger's Old Town has Europe's highest concentration of 17th- and 18th-century wooden buildings.
Flåm, Norway
Nestled in the breathtaking Aurlandsfjord, Flåm enjoys a spectacular setting.
Ship will call in Eidfjord, Norway on September 27, 2021.
Bergen, Norway
Scenic Bergen is nestled amid snow-capped mountains, magnificent fjords and a glacier.
| | | |
| --- | --- | --- |
| | Bergen, Norway | Once a Hanseatic League trading port, the ancient city of Bergen has deep Viking roots. |
| | Flåm, Norway | Nestled in the breathtaking Aurlandsfjord, Flåm enjoys a spectacular setting. |
| | Stavanger, Norway | Stavanger's Old Town has Europe's highest concentration of 17th- and 18th-century wooden buildings. |
| | Kristiansand, Norway | Kristiansand is a vibrant city with an inviting Old Town and a historic fortress. |
| | Oslo, Norway | Oslo brims with scenic beauty, Viking history and artistic heritage. |
| | Skagen, Denmark | The northernmost point of Denmark's mainland, Jutland, Skagen is a charming old fishing village. |
| | Sail the North Sea | The North Sea has been central to Europe's history, from Viking voyages to oil drilling. |
| | Amsterdam, The Netherlands | The Dutch Golden Age's legacy lives on in Amsterdam's gilded manses and lush paintings. |
| | | |
| --- | --- | --- |
| | Bergen, Norway | Once a Hanseatic League trading port, the ancient city of Bergen has deep Viking roots. |
| | Flåm, Norway | Nestled in the breathtaking Aurlandsfjord, Flåm enjoys a spectacular setting. |
| | Stavanger, Norway | Stavanger's Old Town has Europe's highest concentration of 17th- and 18th-century wooden buildings. |
| | Kristiansand, Norway | Kristiansand is a vibrant city with an inviting Old Town and a historic fortress. |
| | Oslo, Norway | Oslo brims with scenic beauty, Viking history and artistic heritage. |
| | Skagen, Denmark | The northernmost point of Denmark's mainland, Jutland, Skagen is a charming old fishing village. |
| | Sail the North Sea | The North Sea has been central to Europe's history, from Viking voyages to oil drilling. |
| | Amsterdam, The Netherlands | The Dutch Golden Age's legacy lives on in Amsterdam's gilded manses and lush paintings. |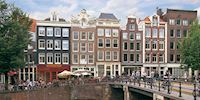 DISCLAIMER
NEW BOOKINGS ONLY. Offer ends on 12/31/21. Prices are in CAD dollars, per person based on double occupancy. Complimentary Deluxe Veranda upgrade from Veranda (V1-DV1) applicable to select voyages and based on available staterooms. Pricing may vary based on stateroom category. Viking all-inclusive air offer includes transfers to/from Airport and Cruise Terminal and on days of embarkation and disembarkation. Transfers may be purchased separately for cruise only bookings. All fares include cruise taxes, port taxes and fees. Free or reduced airfares vary based on itineraries, gateways and departures. Low air add-on available for other itineraries. Call for details. Shipboard Credits are per stateroom and based on voyage, call for details. Cruise Connections reserves the right to correct errors & omissions. All offers, rates & sailings subject to change & availability at the time of booking. Promotion is capacity controlled and may be pulled out at any time without prior notice. Certain restrictions apply. BPCPA #28364
Other cruises you might like
8
Days
Nights
✦ Amsterdam to Bergen
Viking Shores & Fjords
8
Days
Nights
✦ Amsterdam ↔ Bergen
Up to 7 FREE Category Upgrade (Best Available Stateroom)
Reduced Int'l Air starting from $799*
FREE Transfers
FREE Upgrade (Deluxe Veranda Stateroom)
FREE Pre-paid Gratuities
(value up to $)
FREE Wine, Beer & Soft drinks
(w/ onboard lunch & dinner)
FREE

Specialty Coffees, Teas & Bottled Water

FREE

Specialty Dining

FREE Guided Tours
FREE WiFi
FREE Shipboard Credit


(up to $300 CAD**/stateroom)

FREE Enrichment Lectures
ALL Taxes & Fees
PLUS Travel Insurance‡
Trip Cancellation & Trip Interruption


NO AGE LIMIT

|

NO MEDICAL QUESTIONNAIRE

|

PRE-EXISTING CONDITION WAIVED


See: Summary of Coverage / Insurance Policy/ Resolution Policy

PRICES
Cruise Connections Exclusive Price ()
Reduced Int'l Air from $799, Taxes & Fees Included
 

Stateroom

Sale Fare

(from / per person)

Savings

(up to / per couple)

Extra Shipboard Credit





$


$


+ $/Person Gratuities/Taxes & Fees

$

$ 


per stateroom



$


$


+ $/Person Gratuities/Taxes & Fees

$

$ 


per stateroom



$


$


+ $/Person Gratuities/Taxes & Fees

$

$ 


per stateroom



$


$


+ $/Person Gratuities/Taxes & Fees

$

$ 


per stateroom

*Promo includes Viking Air from select gateways: Calgary, Edmonton, Ottawa, Toronto, Vancouver, Winnipeg. Many additional gateways available, air fares may vary. Airport transfers included with Viking purchased Air (to and from cruise terminal) on cruise dates. If air is not purchased from Viking, transfers may be purchased separately. Call for details.

PRICE-VALUE COMPARISON Request A Quote Request A Quote