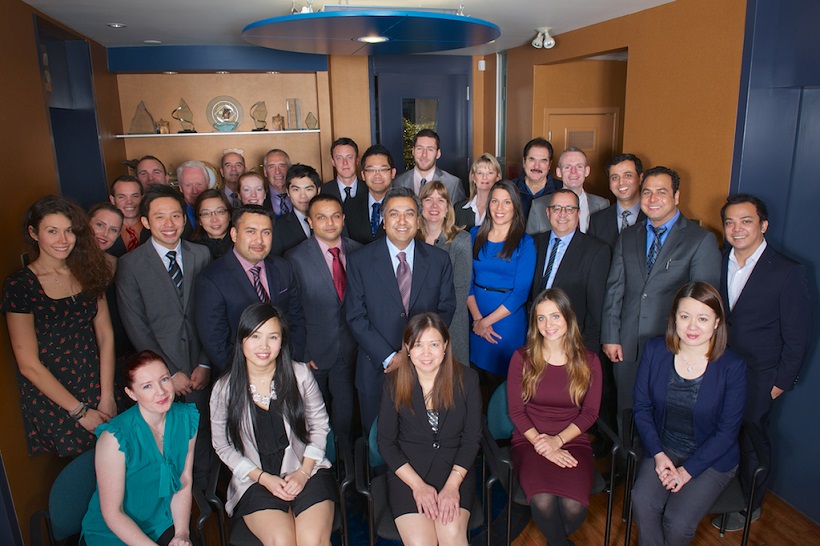 Cruise Connections…Canada's Largest Cruise Retailer
Born in Regina Saskatchewan, Sanjay Goel, president of Cruise Connections started as a Travel Counselor 30 years ago.  He founded Tradewinds Travel in 1985. Specializing in the Orient and South Pacific, he became an air consolidator – paying discounted prices for the distressed inventory airlines reselling it to customers.
The Cruise Connections Era Begins
During the final years of Tradewinds Travel, Sanjay together with a number of travel partners opened Cruise Connections in 1993.  As the Canadian face of the company, his responsibility was to work on the consolidation segment.  For whatever reason, one by one, the other partners had to walk away, and he was left holding the bag.
Sanjay recalled…"It was very interesting because when I first started, a boy from Saskatchewan, everyone said, no one's going to buy cruises in Canada," and I thought, "that doesn't make any sense."
As a fledgling company, Cruise Connections didn't have a big office, but had big dreams. 
"Lo and behold, when Cruise Connections first opened, I wouldn't say that the phone rang off the hook, but we were very busy from the very beginning, and we found that guests in Canada liked our unique and transparent approach to business," Sanjay said.
Cruise Connections Today – Celebrating 25th Anniversary
This month, September 2017 marks Cruise Connections 25th anniversary.
One guest at a time…that's always been our philosophy at Cruise Connections.  From our first days in 1993, we knew that our success would depend upon taking care of each customer – as a guest, on an individual basis. Our professional, multilingual cruise specialists enjoy and take pride in planning your dream cruise.
Today, Cruise Connections is Canada's largest cruise retailer.  We have served hundreds of thousands of guests worldwide.  We are open 7 days a week, 364 days a year and
Cruise Connections is a member of CLIA (Cruise Line International Association) and a Top Producer of Ensemble Travel Group, an association of about 1,000 travel agencies in North America.  It is for these reasons that today we consider Cruise Connections to be Canada's largest cruise-only retailer."
Guaranteed Lowest Price
Cruise Connections pioneered the "Guaranteed Lowest Price" policy in the country, providing guests hundreds of dollars of savings compared to the current market rates.
Our wholesale inventory is also secured years in advance allowing us to offer our guests the best rates and lucrative amenities, such as shipboard credits, fully-refundable reduced deposits, prepaid gratuities and more. 
Our Partnership with the Cruise Lines
Over the years, we have received "Top Producer" Awards from various cruise lines and most recently, were awarded the "Top Producer for 180-day World Cruises for Oceania Cruises."
As a top cruise retailer, we receive exclusive offers from the various cruise lines and travel services allowing us to pass huge savings to our guests.
A game changer in the cruise industry, Cruise Connections has produced among the largest and world-class consumer shows generating millions of dollars of sales.
Our Partnership with the Media Channels
Cruise Connections exclusive partnership with the media channels have also brought about the biggest travel programs in Canada including the highly successful "Caribbean Odyssey and Mediterranean Odyssey" with The Globe and Mail.
We are also proud to be the Official Travel Partner of The Vancouver Sun 100th Anniversary Cruise which won the "Best Idea Awards" nationally and internationally.
The awards were presented by Canada's Newspaper Association and the International News Media Association.
Our partnership with Travelzoo has also won us the "Best Overall Provider of Vacation and Cruise Packages in Canada."
And for four consecutive years, 2014 – 2017, Cruise Connections is the recipient of the "Consumers Choice Award" in the Cruise category.
Cruise Connections – Other Services
CMEatSEA (continuing medical education) is a division of Cruise Connections founded in 2003.  It has served thousands of doctors and their families providing high quality medical conferences and experiential vacations.
Explore India, another division of Cruise Connections specializes in land programs in India.  Our knowledgeable, experienced and English-speaking specialists know India like the back of hand. 
We Can Get You from Air to Sea, And Everywhere in Between
Hassle-free, worry-free vacations are what we specialize in! 
We can assist you in everything, including flights, car rentals, hotel, travel insurance, shore excursions and more.  We are here for you, from start to finish: we'll wish you a Bon Voyage and will be waiting to hear all about your great vacation when you come back!
604–1201 West Pender Street
Vancouver BC
Canada V6E 2V2
1–866–765–WAVE