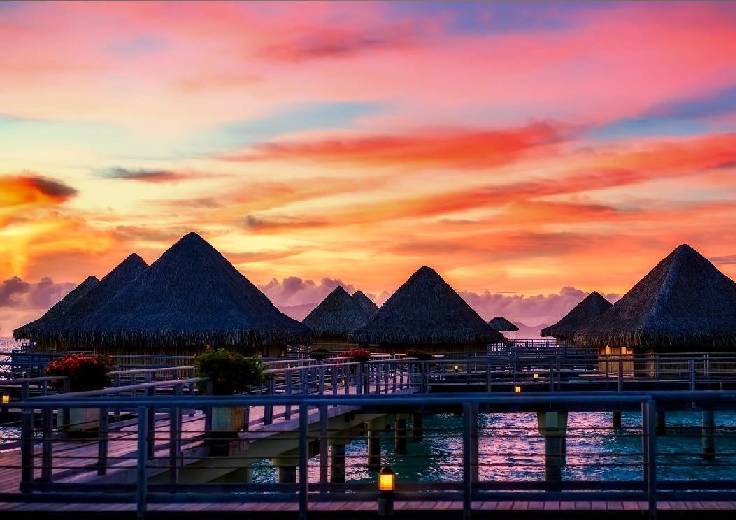 BORA BORA, FRENCH POLYNESIA
1 OVERNIGHT | JANUARY 31-FEBRUARY 1, 2024
If asked to imagine paradise, the image that comes to mind likely resembles Bora Bora. The scent of vanilla and frangipani welcomes you to this incredibly photogenic locale that is beautiful from any vantage point, whether you're lying on a beach, bobbing on a boat or standing atop a hillside overlook. The landscape is dominated by two peaks – Mount Otemanu and Mount Pahia – both more than 2,000 feet high. Take amazing photos as you cruise around Bora Bora's dazzling lagoon, go snorkeling to discover the brightly colored marine life or head off on an exciting off-road adventure across the island.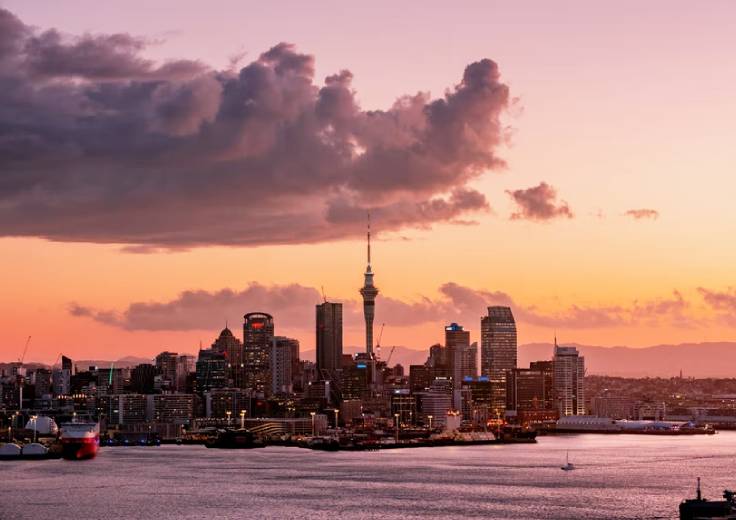 AUCKLAND, NEW ZEALAND
1 OVERNIGHT | FEBRUARY 12-13, 2024
The Maori name for Auckland roughly translates to "city of many lovers" – named for the myriad cultures that have loved this place. Sailing past picturesque islands as the city skyline comes into focus, you also will become one of its many lovers. Partake in urban adventures at museums and cultural sites in New Zealand's most cosmopolitan city, or experience spectacular landscapes from luminescent caves to working sheep farms to rugged beaches that host raucous gannet colonies. Wherever you find yourself, when it's time to eat, the region's rich farmlands provide the freshest of ingredients and award-winning wines.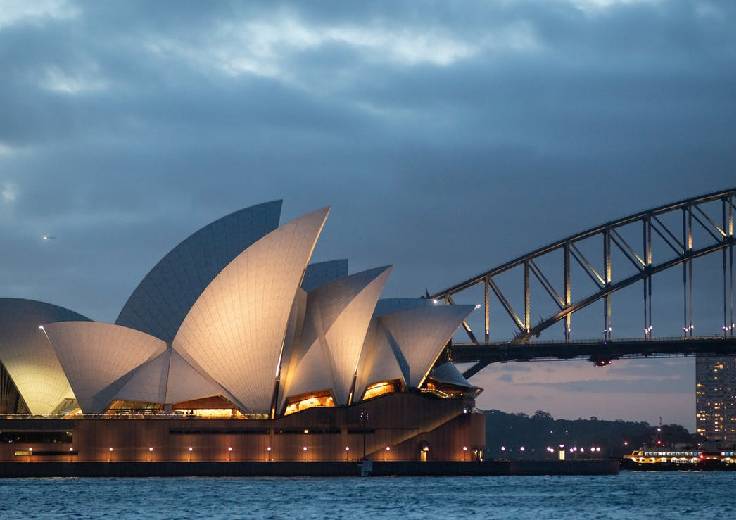 SYDNEY, AUSTRALIA
1 OVERNIGHT | FEBRUARY 22-23, 2024
Like all great world capitals, Sydney has many iconic sights worthy of your attention, from the Sydney Harbour Bridge and Sydney Opera House to Bondi Beach. But don't stop there. Around every corner is a fascinating neighborhood, hidden garden or unique museum waiting to be added to the reasons that this city enchants you. Though not as grand as the Royal Botanic Garden, Wendy's Secret Garden offers lovely views of the harbor in a tranquil setting. And while it may not be comparable to the massive Art Gallery of NSW, the White Rabbit Gallery boasts one of the world's largest and most significant collections of contemporary Chinese art.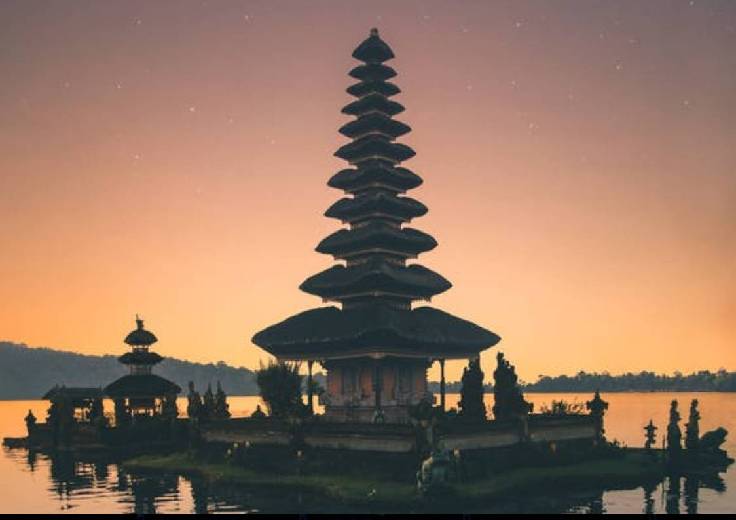 BALI (BENOA), INDONESIA
2 OVERNIGHTS | APRIL 4 – 6 , 2023
Breathtaking Bali is an interesting mix of modern and traditional. Once a remote destination that could be reached only with a fair amount of effort, the island has become a haven for serenity seekers from around the world. Part of its draw is spiritual – there are gorgeous Hindu temples throughout the island, and the town of Ubud in particular has become a center for yoga practitioners. But there's also quite a vibrant nightlife scene in Kuta, and the surfing is top-notch. For a special treat, hire a guide and visit the Jatiluwih Rice Terraces, a gorgeous UNESCO World Heritage site that demonstrates how harmoniously man and nature can interact.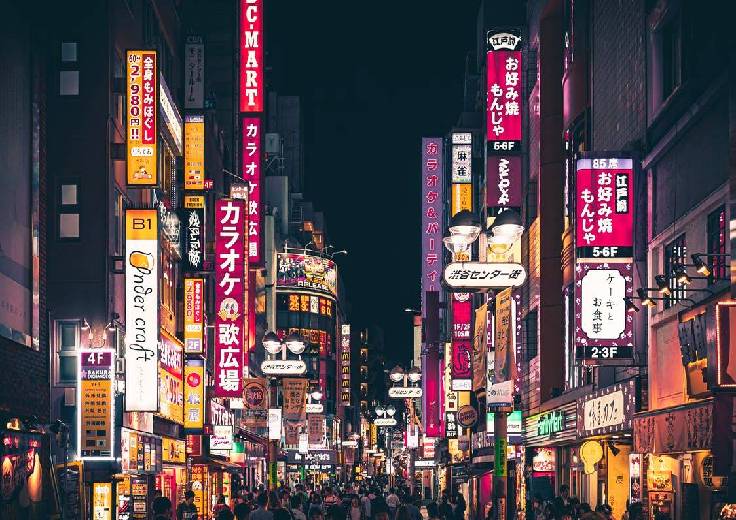 TOKYO, JAPAN
1 OVERNIGHT | MARCH 24-25, 2024
Tokyo perfectly combines reverence for tradition with cutting-edge technology and culture, so you'll want to visit the ancient shrines and formal gardens as well as the modern Tokyo Tower that soars above it all. You can expect to encounter a lot of people in a city of millions, but you can also find quiet spots in which to relax, such as lovely Ueno Park. If the cherry blossoms are in bloom, even the parks will be bustling with viewing parties known as hanami, so your best bet is to put on your walking shoes and join the throng. Visit the temple, eat the sushi, sing the karaoke, buy the kimono and embrace this fascinating city.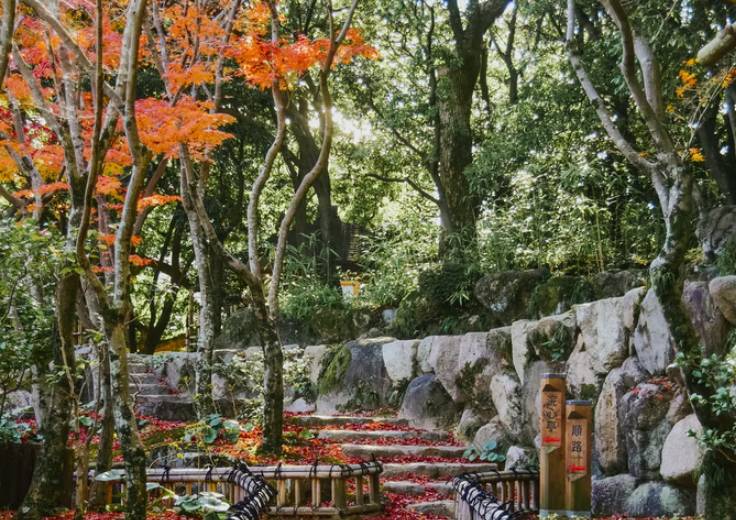 KYOTO (KOBE), JAPAN
1 OVERNIGHT | MARCH 27-28, 2024
Packed with 17 UNESCO World Heritage sites, Japan's compelling imperial capital of Kyoto is less than 50 miles from the port of Kobe, which is also close to other wonderful sights. The more ancient imperial capital of Nara has its own share of UNESCO sites nearby, while the gilded tigers adorning Osaka Castle can be found even closer to the port. Kobe itself also has plenty to offer, from parks and museums to chic restaurants serving the city's succulent namesake beef. Whether you enjoy a traditional tea ceremony performed by geishas in Kyoto or go for a hike on Mount Rokko outside Kobe, you'll experience some of Japan's greatest icons.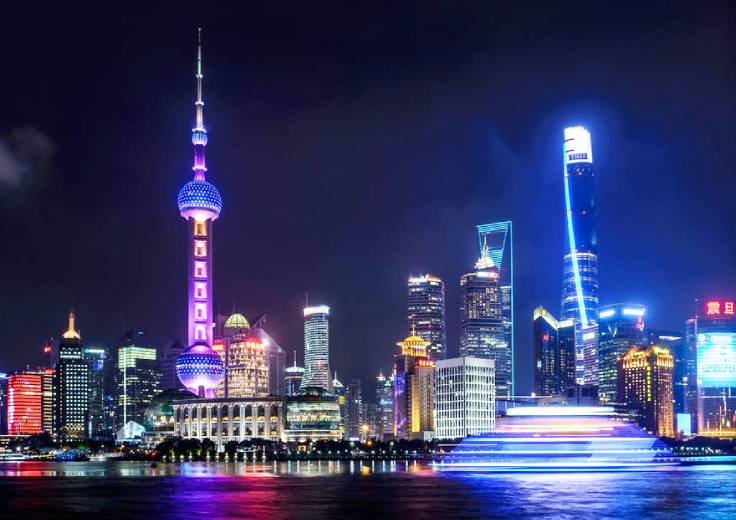 SHANGHAI, CHINA
2 OVERNIGHTS | APRIL 2-4, 2024
Standing on The Bund gazing across the Huangpu River to a forest of skyscrapers, it will be hard to believe that a few decades ago there was barely a building over 10 stories here. While the global economy has transformed Shanghai's skyline, you can still find history and culture during a quiet moment in the 16th-century Yuyuan Garden. Or try shopping for yixing teapots, jade and 3D kitten photos and savoring pan-fried dumplings and scallion pancakes in the Old City. For the hip and modern, head to M50, a collection of factories and cotton mills that have been turned into galleries, and view works of established and emerging Chinese artist.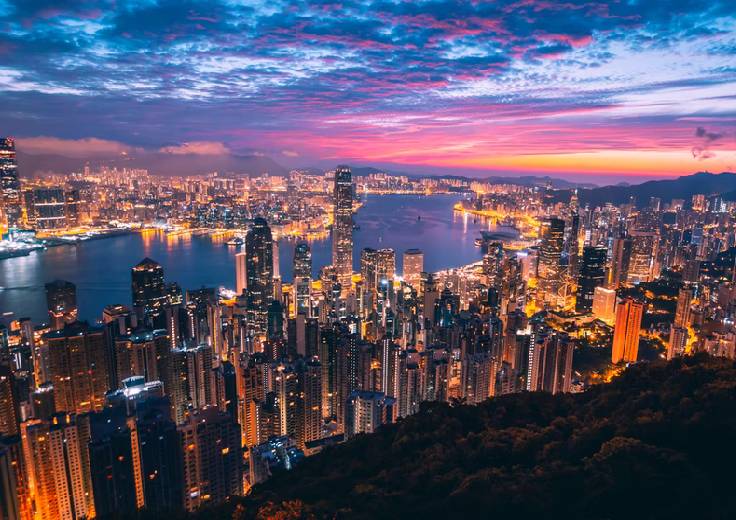 HONG KONG, CHINA
1 OVERNIGHT | APRIL 7-8, 2024
Only in Hong Kong can you wander through a magical flower tunnel hidden in a housing complex, ride the world's longest escalator, stand at the base of the world's tallest seated bronze Buddha and visit a model of Noah's Ark. In fact, you'll find yourself uttering "only in Hong Kong" a lot, whether scaling an impossibly steep hillside on a funicular tramway to Victoria Peak, dining on dim sum at one of the world's cheapest Michelin-starred restaurants or perusing goldfish at the Tung Choi Street Goldfish Market. Start the day by getting fitted for a tailored cashmere suit and end it by shopping for luxury brand knockoffs at the Ladies' Market.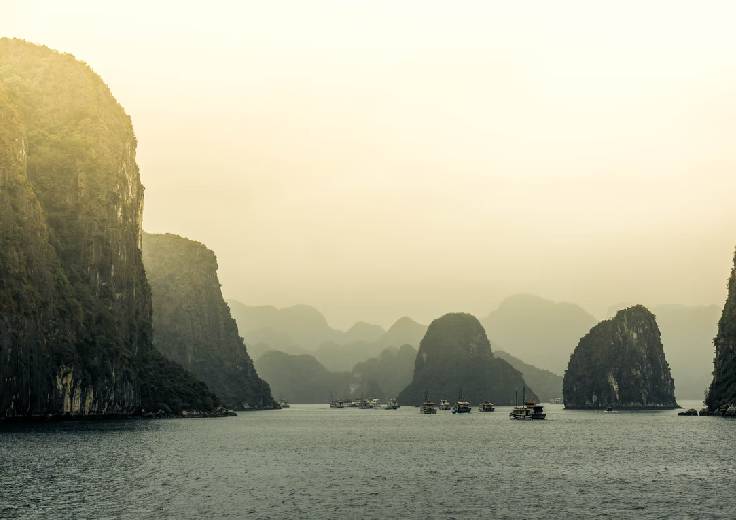 HANOI (HA LONG BAY), VIETNAM
1 OVERNIGHT | APRIL 10-11, 2024
Exploring the streets and neighborhoods of Hanoi, you'll find the city's tumultuous past and enduring spirit everywhere. Standing in front of the French Colonial architecture of the opera house and St. Joseph's Cathedral inspired by Notre Dame, you will feel like you are in Paris instead of Southeast Asia. Then Vietnam's culture unfolds in the 11th-century architecture of the Imperial Citadel and Temple of Literature and in Ba Dinh Square, where Ho Chi Minh read the Proclamation of Independence in 1945. Equally unforgettable is the natural beauty of Ha Long Bay, an amazing UNESCO-listed landscape dotted with hundreds of limestone islands.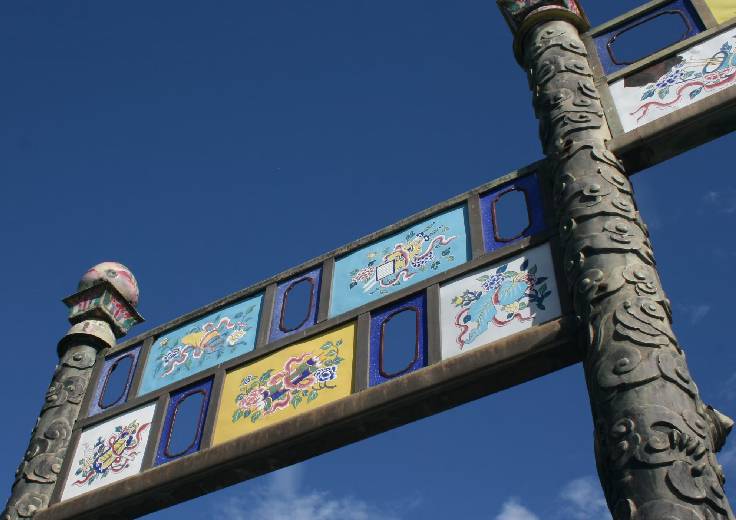 HUE (CHAN MAY), VIETNAM
1 OVERNIGHT | APRIL 12-13, 2024
In Chan May you're ideally situated between centuries of history dating to the Nguyen dynasty in Hue and the modern tumult of the 20th century in Da Nang. The vast Complex of Hue Monuments follows the natural beauty of the Perfume River from a walled imperial city to ornate temples and tombs. This UNESCO site offers a look at Vietnam before the 20th century, but you'll also see evidence of the Vietnam War in the bombed remains of the Forbidden Purple City. That time in history is more evident in Da Nang, where you can tour a replica of Ho Chi Minh's residence and peek through bullet holes left from the war in the caves of the Marble Mountains.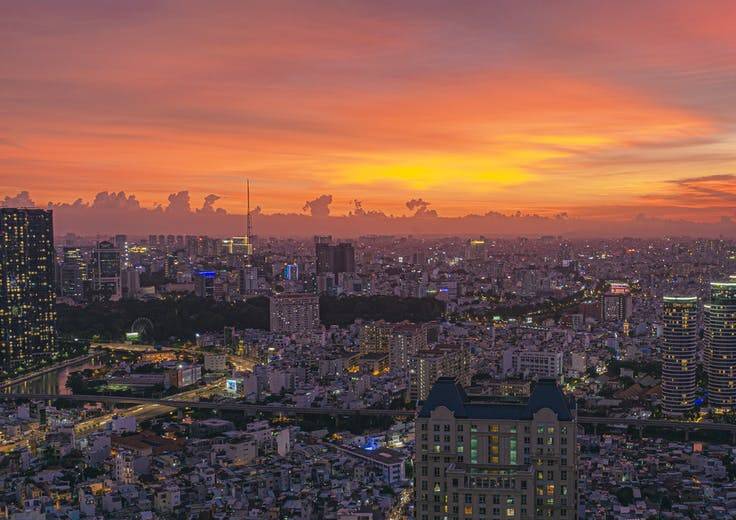 SAIGON (HO CHI MINH CITY), VIETNAM
1 OVERNIGHT | APRIL 15-16, 2024
A lot has changed since the iconic evacuation photos were taken during the fall of Saigon in 1975 – including its name, Ho Chi Minh City. Nowhere is the evolution more obvious than when you view the city from the 81st-floor observation deck of Vietnam's tallest building. Still, Ho Chi Minh City retains its unique culture and wears its battle scars with honor. You'll experience this in the elaborate French Colonial architecture and grand arches of the 19th-century post office as well as the Cu Chi Tunnels built during the war. Explore Vietnam's history in the fascinating museums and pagodas, and watch modern life unfold in bustling markets.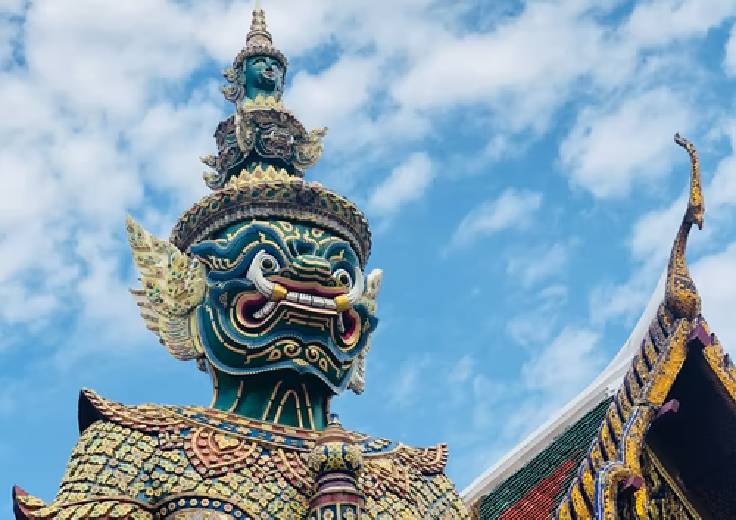 BANGKOK, THAILAND
1 OVERNIGHT | APRIL 18-19, 2024
Bangkok has fabulous streets in which to get lost – and to eat. As you explore, notice what is missing as well as what's there, for you'll find a distinct absence of ancient relics and European colonial influence. At the Grand Palace you may detect an occasional Western flourish, but this royal compound undeniably salutes the craftsmanship and creativity of Thailand. Staring at the 15-foot foot of a massive gold Buddha in the young city's oldest temple, you'll note that it dates only to the 18th century. To explore ancient history, visit Bangkok's excellent museums or travel north to the ruins of Ayutthaya, the historic capital of Siam.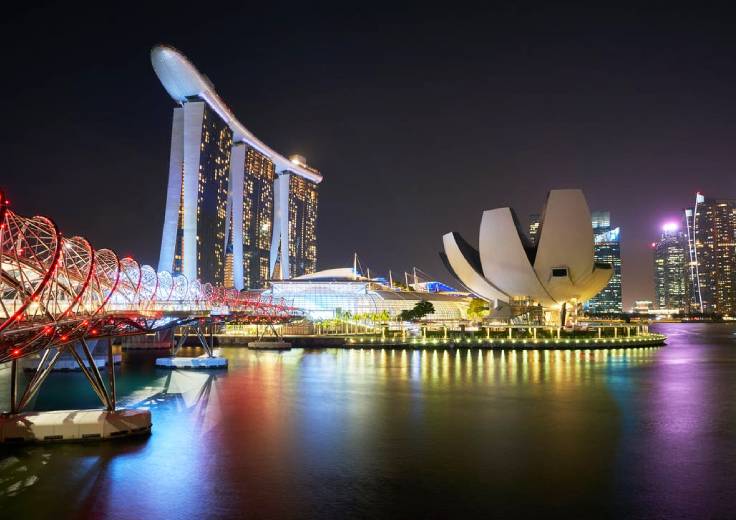 SINGAPORE, SINGAPORE
1 OVERNIGHT | APRIL 22-23, 2024
Discover the delightful diversity of Singapore, from charming Chinatown to colorful Little India to Arab Street and the massive Sultan Mosque. Learn about the many Asian cultures that have influenced Singapore at The Asian Civilisations Museum, which houses one of the most comprehensive pan-Asian collections in the region. Gaze at 20,000 beautiful blooms in the National Orchid Garden and observe nocturnal creatures in their natural habitat on the unique night safari. For a historical perspective, visit the Kranji War Memorial and the Changi Chapel and Museum, dedicated to those who lost their lives during World War II.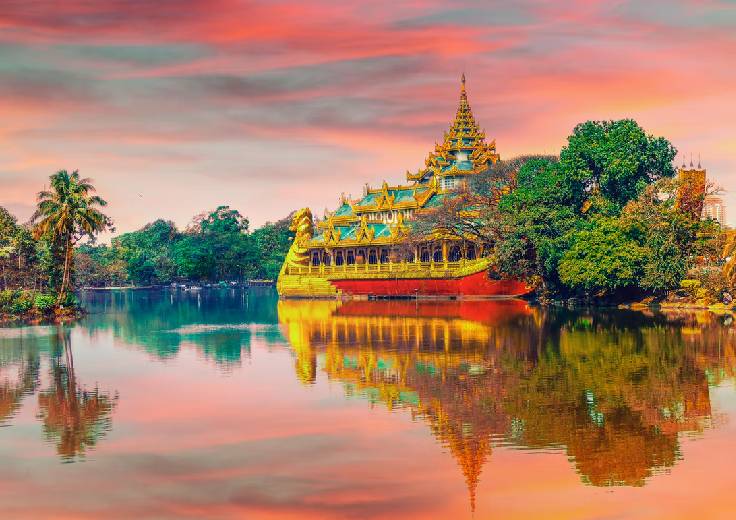 YANGON, MYANMAR
2 OVERNIGHTS | APRIL 28-30, 2024
Formerly known as Rangoon, Yangon is the largest city in Myanmar and yet retains an old-school feel that is rare for a city of millions. You'll find more quaint colonial buildings than slick skyscrapers, and its most famous structure – the heavenly Shwedagon Pagoda – is about 2,600 years old. Beyond that golden icon, the gilded Sule and Botataung pagodas are also worth visiting. To get an authentic feel for the entire city, the Yangon Circular Railway makes a three-hour loop around town and gives you the chance to rub elbows – literally – with the locals. When you need to refuel, try a bowl of mohinga, a delicious fish soup with rice noodles.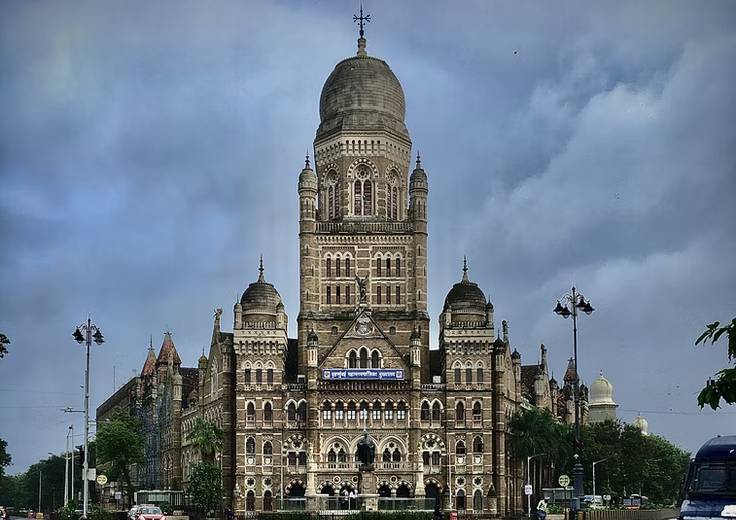 MUMBAI, INDIA
1 OVERNIGHT | MAY 7-8, 2024
India's largest city, Mumbai is home to 20 million people, seemingly all on the go. A good place to start your visit is the Gateway of India, an arch monument built for England's King George and Queen Mary in 1924 that has become an iconic symbol of the city. After that, your senses may kick into overdrive – from the bright flowers and fragrant incense used in daily Hindu rituals to the constant thrum of traffic and rush of pedestrians on busy streets. But there's always somewhere to slow down, like the seaside promenade of Marine Drive or even an air-conditioned movie theater, where you can take in a locally produced Bollywood production.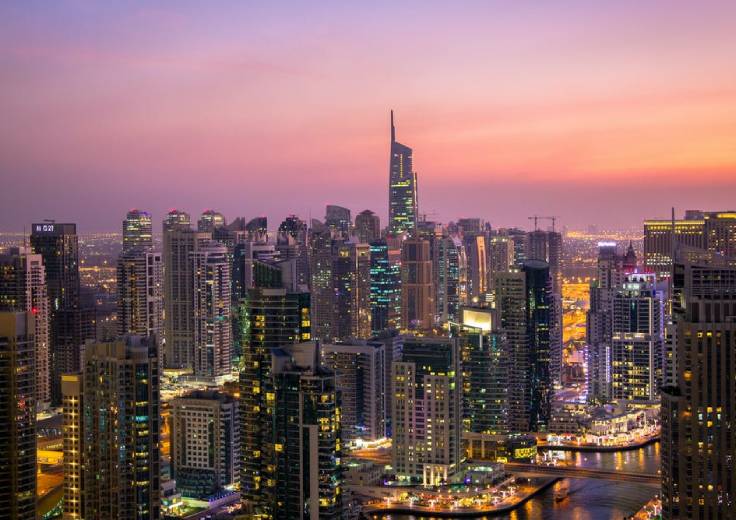 DUBAI, UAE
1 OVERNIGHT | MAY 12-13, 2024
As Dubai has carved its place in the vast desert as a glittering tribute to all that money can buy, you may find it hard to believe that the city's skyline had only a few modest high-rises as recently as the 1990s. After learning about the monumental journey from fishing village to international symbol of opulence at the Dubai Museum, discover for yourself what all the fuss is about in this city of superlatives. Ride the world's longest elevator to the top of the world's tallest building, shop in the world's largest mall, ski the world's first indoor black-diamond run or lounge on a white sand beach on the world's largest artificial island.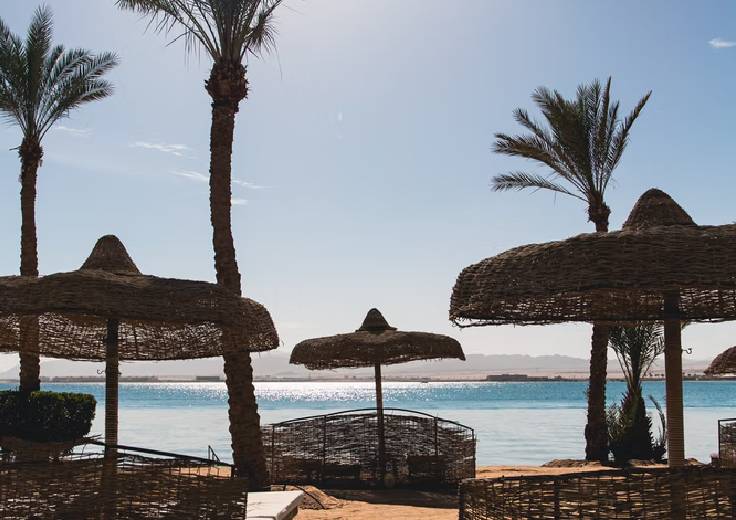 LUXOR (SAFAGA), EGYPT
1 OVERNIGHT | MAY 24-25, 2024
Long before bucket lists, there was Luxor, the site of the ancient city of Thebes and a breathtaking monument to the awesome power and wealth of Egyptian pharaohs during the 16th to the 11th centuries BC. As you stand in a 50,000-square-foot hall at the base of columns towering over 80 feet, your size and place in this ancient world will not be difficult to determine. For a humbler take on life in the desert, travel to a Bedouin settlement to sip tea, break bread and learn about this nomadic culture, or spend the day relaxing on the Red Sea Riviera, where travelers flock for some of the best snorkeling and diving in the world.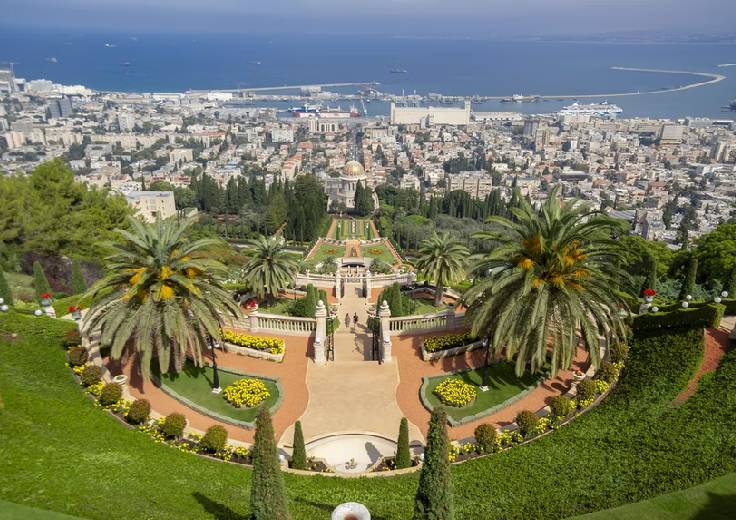 JERUSALEM (HAIFA), ISRAEL
1 OVERNIGHT | MAY 28-29, 2024
While the majority of the population is Jewish, Haifa is a diverse melting pot of cultures and faiths. Consider the German Colony, established in the 1800s by German Templars and now a prime tourist area thanks to its excellent restaurants and view of the Bahá'í Gardens. Nearby is Stella Maris Monastery, a beautiful Catholic abbey. Likewise, you'll find historic sites sacred to Jews, Christians and Muslims if you travel south to Jerusalem, one of the world's holiest cities and home to treasures such as the Dome of the Rock, Western Wall, Damascus Gate, Church of the Holy Sepulcher and more. Prepare for ample walking and amazement.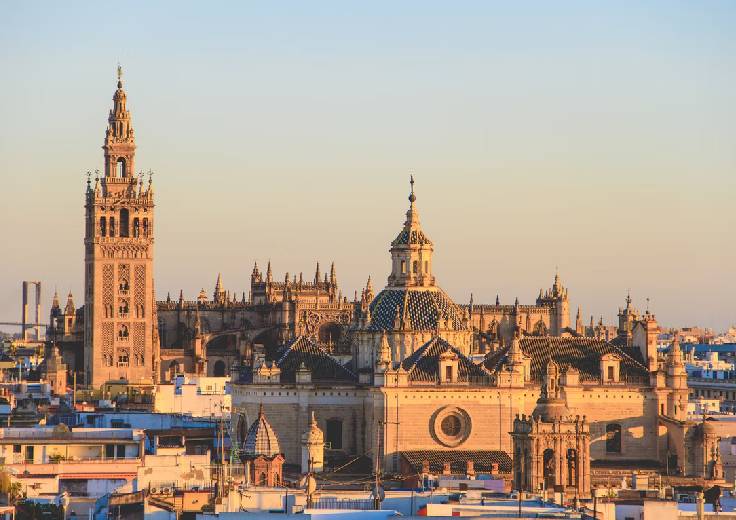 SEVILLE, SPAIN
1 OVERNIGHT | JUNE 10-11, 2024
You'll easily fall in love with Seville. The city is just right – big enough to have lots to do but small enough to feel intimate, with enough visitors to be tourist-friendly without being a tourist trap. Get lost in the winding streets of the Santa Cruz neighborhood, or let your eyes skim the residential rooftops as you sip a glass of wine on the balcony of the Metropol Parasol – known locally as Las Setas, or "the mushrooms" – a modern structure built above ancient Roman and Moorish ruins. Be sure you also make time for Seville Cathedral, a beloved center of worship in this heavily Catholic region, and of course, the famed Alcázar palace.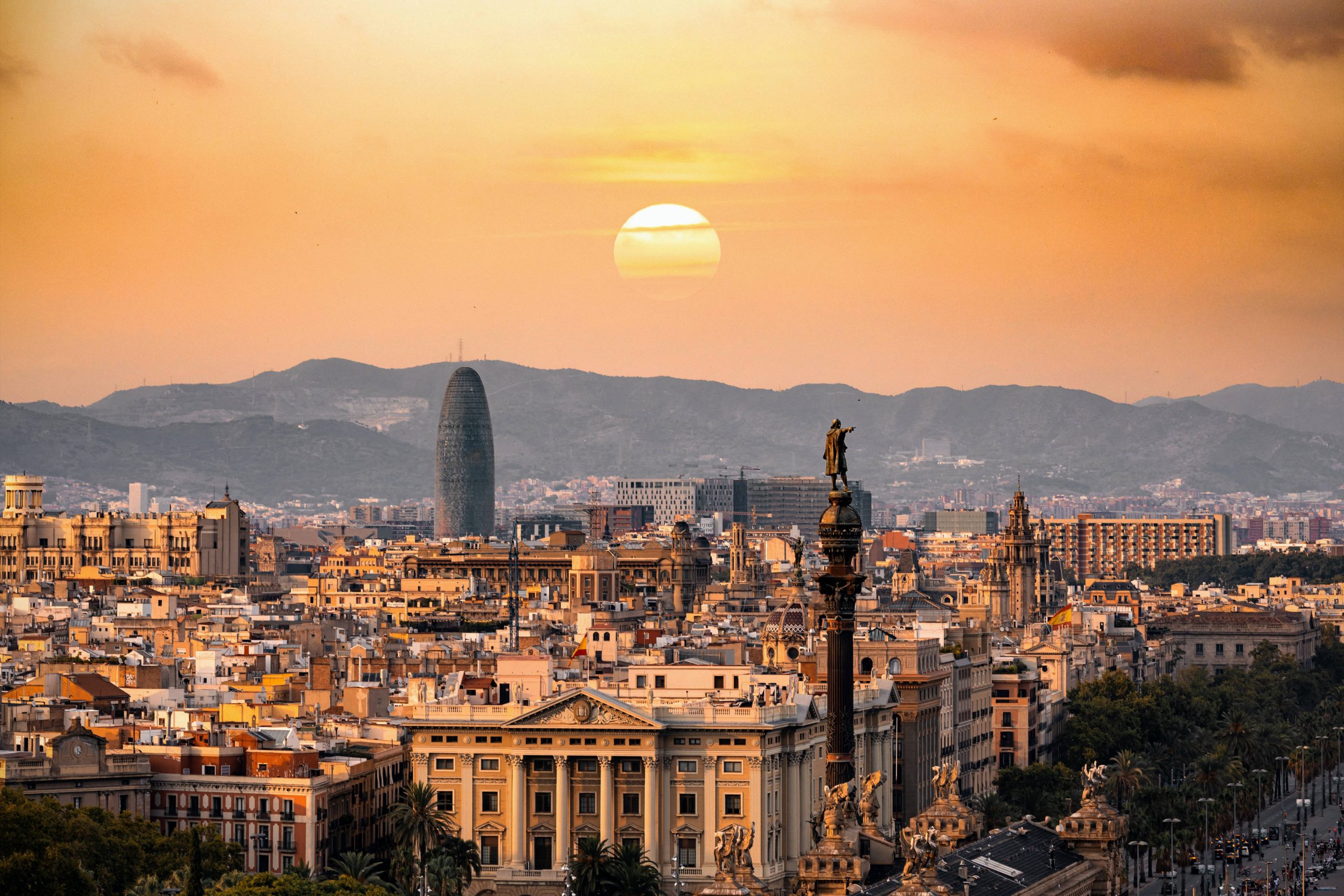 BARCELONA, SPAIN
1 OVERNIGHT | JUNE 5-6, 2024
With broad boulevards, big skies and intriguing architecture competing for your eye at every turn, Barcelona is a city unlike any other. The streets beg to be walked, as you can amble through the centuries with a stroll from the narrow medieval alleyways of the Gothic Quarter to the modern heart of La Rambla. Along this wide, tree-lined promenade, experience the full gamut of Catalonian culture, from whimsical Gaudí homes to tapas bars to street performers to bustling La Boqueria market. You'll also discover natural escapes nearby if you simply climb the hill to Park Güell, where you'll see more of Gaudí's unmistakable imprint on the city.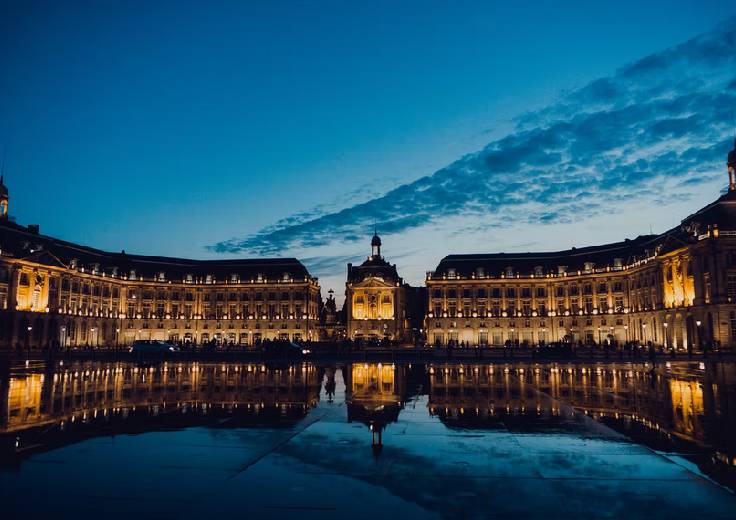 BORDEAUX, FRANCE
1 OVERNIGHT | JUNE 17-18, 2024
Along a curve in the Garonne River rises the iconic 18th-century architecture of Bordeaux, a brilliant unity of medieval roots, neoclassical style and urban planning so remarkably revitalized that half the city was declared a UNESCO World Heritage site in 2007. Stroll through this divine cityscape defined by its parchment-colored buildings and wide-open squares, the largest of which is the 30-acre Esplanade de Quinconces. The only thing that could draw you outside of a city this gorgeous would be wine regions as revered as Médoc and Saint-Émilion and the elegant countryside châteaux where you can taste these renowned vintages.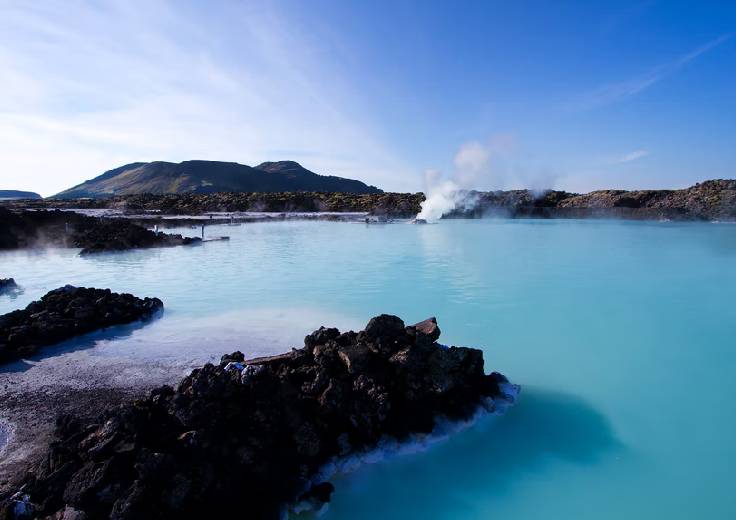 REYKJAVIK, ICELAND
1 OVERNIGHT | JUNE 29-30, 2024
Although it's one of the smallest capitals in the world, Reykjavik is home to two-thirds of Iceland's population, making it the ideal place to immerse yourself in the local culture. The city exists in harmony with the strikingly beautiful landscapes surrounding it, reflected in places such as the botanical gardens, the Reykjavik Art Museum and the Reykjavik Maritime Museum. Experience the majestic countryside firsthand with a day trip to Geysir – an erupting hot spring – and the nearby waterfall of Gullfoss. For a different sort of adventure, try some harkarl – fermented shark – or play it safe and stick with traditional Icelandic fish stew.